Esther Muchene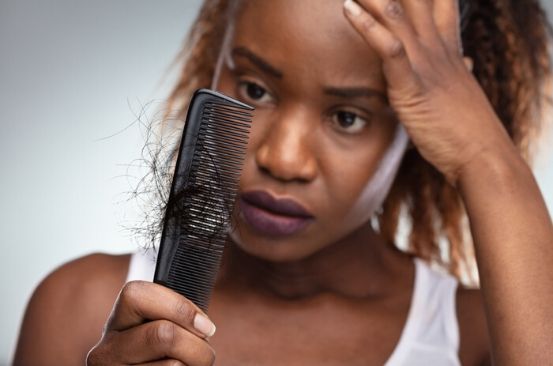 Hair sheds from time to time as it goes through the different phases. This isn't a cause for alarm because it's just a natural process. But something is definitely off if you notice chunks breaking off every time you comb, wash or handle your hair.
ALSO READ: What is a hair gloss treatment?
Hair breakage is different from shedding and you might need to change a couple of things before it gets severe.
Start here.
i. Be careful with heat
In the past few years, we've realized that heat isn't necessarily your hair's best friend. We used to prioritize styling over the health of our hair at one point or another and that cost many of us. The story stays the same when it comes to heat. Use it moderately to prevent breakage. And if you must use heat, always protect your strands with a heat protectant.
ii. Moisturize before detangling
This is a key step especially for naturalistas. The strands of hair are naturally curly and they tend to get tangled. Before you start to comb your hair, spray some water with a conditioner to loosen the tangles first then proceed. When it's dry, the coils will only get tighter and break as you try to unwind them.
iii. Detangle with a wide toothed comb or your fingers
ALSO READ: Seven kitchen ingredients that can help with oily hair
Tiny combs should never be used for detangling. There's no room for the tangles to unwind, which only leads to breakage. Only use wide toothed combs if necessary or simply use your fingers. Some women actually never use combs to detangle and that's probably one of the main reasons they've had a lot of progress.
iv. Be gentle with your hair
Overall, you always need to handle your hair with the love and care it deserves. Rushing through styling and roughly handling it isn't a great idea at all. Even as you proceeded with your usual hair care routines, try and be gentler and you'll see a huge difference.
v. Find the products that work for you
Don't be so quick to jump on product bandwagons. At the same time, don't rush to cancel certain products just because they're receiving a lot of hate - apart from toxic products of course. Everyone's hair responds differently to ingredients in the products we see on the shelves and it's up to you to try different things until you settle on those that give you the best results. Also, you shouldn't feel guilty if you're not a fan of popular brands because you have every right to prioritize the health of your hair.
vi. Balance your hair treatments well
Always pay attention to what your hair needs when it comes to treatments. If your hair is dry, do a conditioning treatment and if it's brittle and weak, do a protein treatment. This will prevent protein overload or an imbalance caused by over conditioning which both lead to breakage.
ALSO READ: Five home remedies for dandruff
Aside from these tips, you should eat a balanced diet to maintain a healthy internal condition and manage your stress levels to prevent breakage. Sometimes the breakage is caused by whatever's going on inside your body so what you do on the outside might not help as much if the problem is internal.