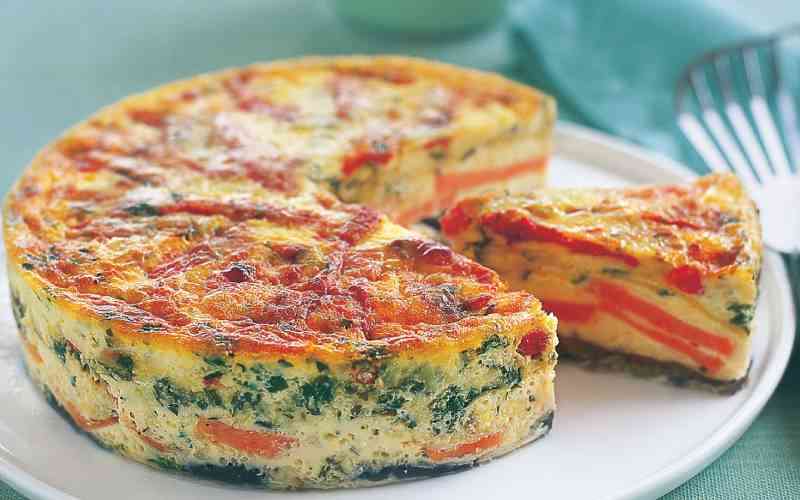 Frittata is an Italian dish that is similar to an omelette or a quiche, but it is typically thicker and can be served hot or cold. It is a versatile dish that can be made with a variety of ingredients, making it a great choice for breakfast, lunch, or dinner.
The word "frittata" comes from the Italian word "fritta," which means "fried." Traditionally, frittatas were made by frying leftover vegetables and other ingredients in a pan with beaten eggs.
Today, frittatas can be made with a variety of ingredients, including meats, cheeses, and vegetables, and are often baked in the oven instead of fried on the stovetop.
Here is a simple recipe for preparing a frittata at home:
Ingredients:
- 8 eggs
- 1/2 cup milk
- 1/2 teaspoon salt
- 1/4 teaspoon black pepper
- 1 tablespoon olive oil
- 1 small onion, chopped
- 2 cups chopped vegetables (such as bell peppers, mushrooms, zucchini, or spinach)
- 1/2 cup shredded cheese (such as cheddar or mozzarella)
Method:
Preheat the oven to 180 degrees. In a large bowl, whisk together the eggs, milk, salt, and pepper. In an oven-safe skillet, heat the olive oil over medium heat.
Add the onions and cook until they are soft and translucent about 5 minutes. Add the chopped vegetables and cook until they are tender about 5-7 minutes.
Pour the egg mixture into the skillet and stir gently to distribute the vegetables evenly. Sprinkle the shredded cheese over the top of the egg mixture.
Transfer the skillet to the preheated oven and bake for 20-25 minutes, or until the frittata is set and the cheese is melted and golden brown.
Remove the skillet from the oven and let the frittata cool for a few minutes before slicing and serving. Enjoy!
Related Topics