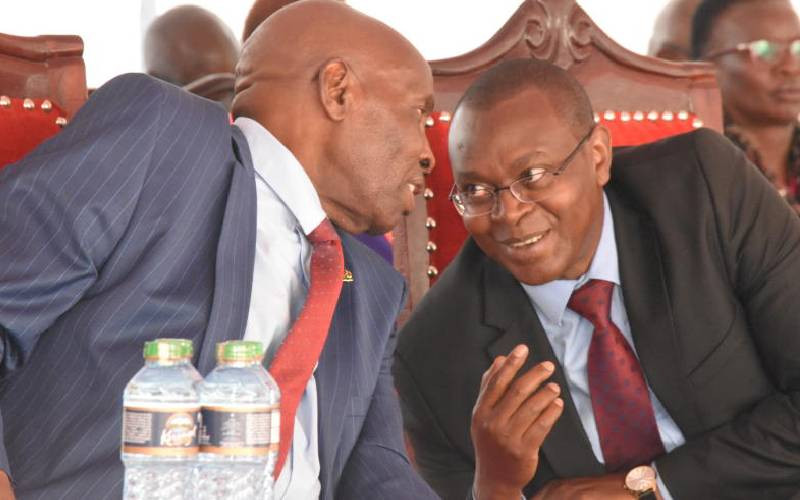 The Ministry of Education has directed all schools that will hold junior secondary to set up independent management boards. Education Cabinet Secretary Ezekiel Machogu said the board will act as a watchdog and assist in the administration of the junior secondary schools.
Machogu said in the new board, the head teacher will serve as secretary while the chairperson will be a member of the committee. ''I wish to announce that the President has this morning accepted the ministry's interim guidelines,'' Machogu said.
He spoke yesterday during the release of the 2022 Kenya Certificate of Secondary Education (KCSE) exam results.
''The Board of Management (BoM) of a primary school that domiciles the Junior Secondary School will constitute a special sub-committee to spearhead the management of education and resources of the school,'' he said.
Public junior secondary school, he said, will be headed by the head teachers of the public primary school that domiciles it in the interim period of the transition ending December 30, 2023.
In the current high school set up, the school principal is the secretary to the Board of Management of their respective schools. Machogu also said text books and hard copies of the Grade 7 curriculum designs will be given to schools.
"KNEC will provide guidelines on the conduct of assessments at the Junior Secondary School," Machogu said.
He further announced that infrastructure and resources of existing primary schools will be utilised by the respective domiciled junior secondary schools. "This applies to special needs junior secondary school as well," said Machogu.
Machogu said Sh9 billion will be disbursed to public schools that will be hosting junior secondary as capitation to learners.
Education costs
The money will be used to finance learners' education costs for the first and second term, with each learner getting Sh15,000 a year. Out of this, Sh4,000 per learner will go towards improving school infrastructures.
''Further, to this, I wish to state that of the Sh15,000 that will be released for each learner, Sh4,000 will be spent on development of infrastructure with the greatest priority being on laboratories,'' Machogu said. The CS further said starting the next academic year, the government will double the amount. ''In the next financial year, the government will spend Sh18 billion for the junior secondary school learners' capitation grants,'' he added.
Last year, the government directed junior secondary to domicile in existing primary schools, with the head teacher of the primary school taking charge. Meanwhile, the State has urged all schools to ensure learners particulars are captured on the National Education Management Information System (NEMIS) in readiness for the enhanced management of education data.
''Registration of learners in NEMIS will form the basis for disbursement of funds to public junior secondary school,'' Machogu said.
Related Topics