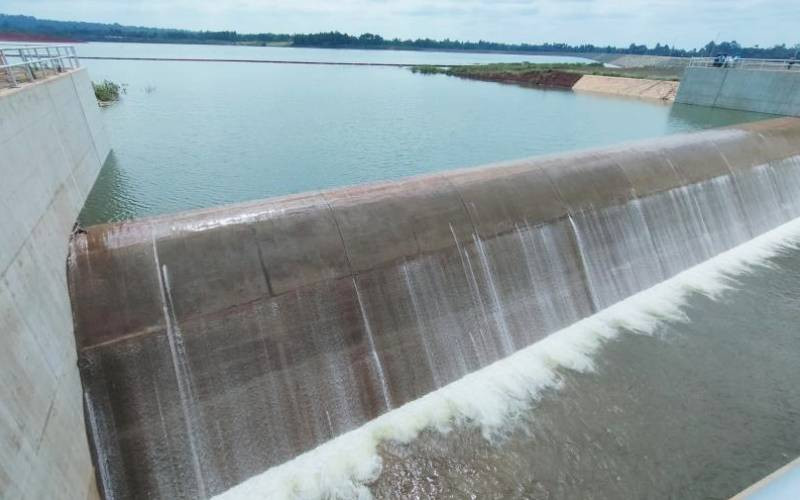 President William Ruto has officially launched the Sh7.8 billion Thiba Dam in Rukenya, Gichugu Constituency in Kirinyaga County.
Ruto, during the launch of the facility on Saturday, October 15, said the dam will help increase Mwea rice production by 10,000 acres – from the current 25,000 acres to 35,000 acres.
The construction of the 15.6-million cubic metres dam was commissioned by former President Uhuru Kenyatta on September 25, 2018.
After four years of construction, the project was finally unveiled by President Ruto on October 15, 2022.
"This dam will help us increase our rice production. Currently, there are 25,000 acres of land used in the Mwea rice scheme. Thiba Dam will now see 10,000 acres of land used in rice production, therefore bringing the total rice production acreage to 35,000," said President Ruto.
The Head of State further said that the dam will help mitigate drought effects in Kirinyaga County.
Ruto pledged to oversee the building of canals that would allow residents of Gichugu and its environs to benefit from the dam.
He said the national government will commit Sh400 million towards canal construction, asking the area governor Anne Waiguru to commit Sh200 million.
"I want the water that is stored at Thiba Dam to benefit every resident of Kirinyaga County," he said.
At the same time, the president said the offices that were established during Thiba Dam construction will be converted to a hospital.
He said the national government will contribute Sh50 million towards constructing the hospital.
With the construction of Thiba Dam complete, Kenya's rice production is expected to rise to 250,000 metric tonnes annually.
"We are targeting to put additional 200,000 acres of land under rice production," said Ruto, telling the people that will serve in his government as Cabinet Secretaries that they "will have to work very hard".
Thiba Dam Project Manager Stephen Mutinda said in March 2022 that the main aim of the dam was to ensure a continuous flow of water into River Thiba in all seasons.
The project was estimated to cost Sh8.2 billion, but the actual cost came to Sh7.8 billion.
The dam is 40 metres high and 1.1 kilometres in length. It has a storage capacity of 15.6 million cubic metres of water.
Related Topics