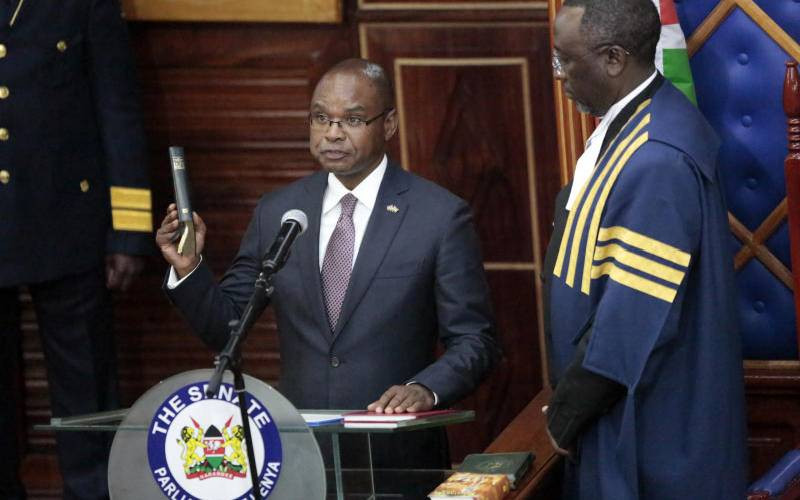 The life of Senate Speaker Amason Kingi has all along been about the audacity of hope. When he was born in 1970 at Kamale village in Kilifi County, his father Kingi Mwaruwa Mukweha says all the odds were stacked against him.
Mukweha, 82, says the family was steeped in penury and buffeted by insecurity in the remote and bushy village in what was then Kilifi District.
Mr Kingi at some point promised to change the situation in the event he got into a position of power.
Tacked 53 kilometres from Malindi town, Kamale village has started experiencing civilisation and now has an all-weather road, electricity and piped water.
The Standard descended on a journey to uncover the early life of Kingi and this took this writer to the remote village that is off the Malindi-Garsen highway at Kibao Cha Fundisa, past Adu trading centre.
Less populated and with little economic activity, the main visible earth mark at the near-empty shopping centre is a telecommunication mast to the right and the sign post of Kamale Primary School to the left.
About 500 metres from the shopping centre, we were ushered into the compound of Mukweha, the patriarch. Kingi's mother Bahati Nzovu was not around during the visit.
"I got a son by the name Amason Jefah Kingi and schooled him at Kamale Primary School before transferring him to Kambi ya Waya Primary School because of the shifta bandits who frequently attacked us. He attended Alliance High School and the University of Nairobi to study law," he said.
Mukweha said Kingi is the seventh born child of his first wife and he had at least 41 children from five wives, although some of them have died.
"He is an obedient child and I stayed with him during hard times even when we lacked food. Together with his siblings, he used to help me with fetching water from the river that I used to sell to earn a living," he said.
Due to the challenges at hand, Kingi's father sent him and some of his siblings to Kambi ya Waya area where they stayed with relatives and completed their primary school education.
"The shiftas used to beat me and snatch the little money I had saved for my children's school fees. When they grew up, I told them (children) not to settle here and that is why you cannot see their houses in this compound. I told them to leave me alone to tackle the shiftas and they have built homes in Adu, Malindi, Mombasa and Nairobi towns," said Mukweha.
Kingi briefly practised law in Mombasa town before venturing into politics in 2007 under the ODM party and became Magarini MP.
In the grand coalition government formed by President Mwai Kibaki and Prime Minister Raila Odinga, he was appointed minister for East African Community and later Fisheries. And with advent of devolution, he became the first governor of Kilifi County.
He served his two terms under ODM before forming his political party, Pamoja African Alliance (PAA), which he used to bargain with the Kenya Kwanza coalition, led by UDA leader William Ruto, in the run-up to the August 9 General Election.
The last time Kingi visited the village was on election day when he drove himself to go and vote at Kamale Primary School polling station.
It is here that he briefly told The Standard how life was in the village while growing up and how he ended up as a leader.
"I grew up here when bandits were all over and my father relocated the family to safety but he remained behind. He refused to leave his land and I don't know how he survived the shiftas when everybody else had vacated the village," said Kingi.
"We used to help him fetch water and we could wake up very early in the morning and take the buckets to the riverside and fill them, then hurry to school. He would pick the filled buckets and sell them to households."
Through that experience, Kingi said he promised to change the situation if he became a leader.
"When I took over as MP, this was a forgotten remote village but today as I drive to this area, I look back and sometimes become emotional at the changes that have taken place. There was no proper school structure but today we have a modern school; there was no road and now we have an all-weather road," he said.
"There was no water when I grew up here and the story is extremely painful that as school children, we had to spend hours and hours looking for water but that is now in the past because we have managed to connect water."
There was no health centre in the village and people walked more than two hours to the nearest facility to seek medical services, he said.
Kingi was recently elected speaker of the Senate after scooping all the 46 votes cast by senators allied to Kenya Kwanza and Azimio la Umoja One Kenya coalitions.
His family had gathered at his father's house to follow the Senate speaker election proceedings.
"I was in the house keenly following the Senate proceedings when the senators were being sworn in and when they started voting for the Speaker. Every vote counted went to my son and the excitement in the house filled the air," said Mukweha, whom Kingi and his siblings have helped live a dignified life in the remote village that is prone to drought and hunger.
Alice Kingi, who is the speaker's younger sister, said, "I want to thank God as I was here when he was elected and I was happy. I want to thank Kenyans for supporting him. I pray that he may use his position to help many people."
Her sentiments were echoed by her brother Lenox Maitha who urged Kingi to empower local youth economically.
Related Topics