Home
/
Bridal
Points brides should remember to ensure flawless beauty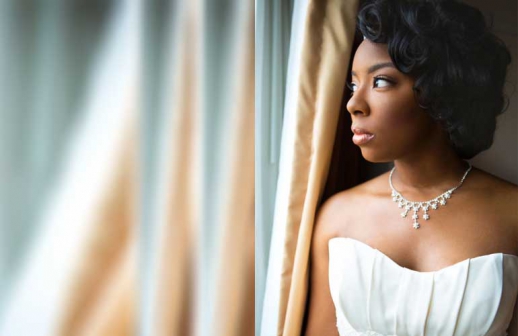 Your wedding day is unforgettable and fleeting. It usually goes by in a blur, but the precious moments are well-documented through expert photography. Here are some points brides should remember to ensure flawless beauty and photos that last a lifetime.
Beautiful skin starts from within. As soon as you have set your wedding date, boost your skin's natural beauty by increasing your intake of water. Drink water on waking up and every two hours, aiming for 2 litres or more per day. There are some free apps you can download on your phone to remind you to drink water, and to log your water intake.
Give yourself weekly mini-facials. Many brides get a facial for the first time two weeks leading before the wedding day. You do not have to spend money - use kitchen ingredients to pamper your face for at least 10 or 20 minutes each week. It is best to begin this habit at least six months before your wedding day.
Guard your beauty sleep. Protect your sleep especially in the month and weeks leading up to the wedding. Professional make-up artists will tell you that even with the most expensive make-up products and brushes, it is still impossible to conceal deep bags and bloodshot eyes from prolonged lack of sleep. Aim for 7 to 9 hours each night, and protect the quality of your sleep by banning electronic gadgets from your bedroom at bedtime.
Do a make-up trial run. Most women don't do this. Do it. It will be worth it. Have your make-up artist do a trial run on your face 2 weeks to the wedding day. This way, you get to understand the skill level of the artist, and you can get feedback on the colours you should use. Do not be alarmed if the wedding make-up application seems heavy-handed. Celebrity make-up artists wear too much make-up in order to achieve a bare and flawless look.
Stick to timeless make-up. In other words, avoid faddish colours and styles that are trending. Remember that your wedding day make up has to let you shine, and it needs to be versatile enough so that you look amazing in High Definition video, high-resolution photos or black and white pictures.
For this reason, very bold or bright colours may appear garish or loud. A natural look will stand the test of time - remember, your grandkids will look at these photos. Think of classical film stars from the previous century - the make-up that appears current are the ones that accentuate natural beauty without overshadowing it. Simple ways to remain timeless are by avoiding shiny sparkly eye shadow.
Stick to skin tone nude shades that are matte. Shiny or sparkly shadows tend to settle in the creases of your eyes, and they reflect the camera flash, which has the effect of making you look aged. Explain to your make-up artist that you want ''naked'' make-up
Make-up that lets you be yourself. Use primer, and layer cream blush under powder blush for longevity. Blot your face before touching up to avoid caked make-up. Remember to contour so as to avoid a plastic or doll-ish appearance. For best photos, stick to lipstick shades that are not too bright. Red maybe in fashion but be authentic and unique by choosing nude pink, golden peach, or deep berry depending on your skin tone.
Finally, smile! Nothing spoils wedding photos like a surly sulking bride. Practise an easy, natural smile for weeks before the wedding. On the day, relax, let go and have fun.
Related Topics