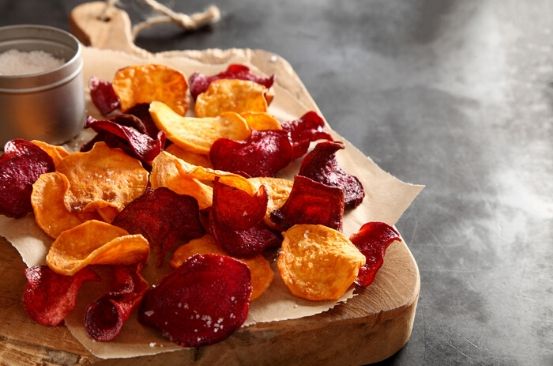 Snacking is key to boost our metabolism and avoid excessive cravings. Potatoes are not the only snacks you can enjoy as crisps as there are other healthier and less greasy alternatives. To avoid eating calorie-packed snacks here are some health conscious crisps. These include:
Sweet potatoes
These are a perfect option if you can't resist a pack of crunchy and salty potatoes crisps. They are not only packed with nutrients like potassium that is essential for preventing cardiovascular diseases but also have a sweet flavour . Instead of deep-frying then, slice them into thin slides and bake them till they are fairly golden brown alongside onions. You could soak them in white vinegar or season them with black pepper for a better outcome. Combine them with your favourite dip or some hot tea.
Carrot
These veggies are rich in vitamin A that is essential for better functioning retinas. We have all heard of the famous carrot sticks that are healthy and are a good snack especially for weight loss. There is more taste and pleasure from baked carrot chips. Use your peeler to get slices that are very crispy. Enjoy this vegetable by adding these crunchy toppings to your salad.
Beetroot
With a very pungent and bitter taste most people tend to leave this vegetable from their diet. Loaded with zinc, vitamin A and iron, this vegetable has so many health benefits to the body. To easily incorporate beetroot into your diet, we recommend that you first sprinkle some rosemary then bake then till they are Crisp. Beetroot is perfect for individuals seeking to lower their cholesterol levels This blood-red vegetable will keep your cells and body rejuvenated as it flushes out toxins from the body.
READ MORE
Spinach
Spinach is one of the most nutritious green leafy vegetables packed with zeaxanthin and lutein, two caratenoids that help prevent vision loss. Make your spinach chips by first coating them with olive oil then baking them in the oven for not more than ten minutes. Sprinkle done lemon on then for a better taste
Turnip
With turnip one can choose to cook the root or its fresh leaves. Providing protein, vitamins, fiber and minerals like iron, this vegetable is recommended by nutritionists. For an elevated taste bake them and add your favourite cheese for a minimum of seven minutes to the root. Once ready, garnish them with some pepper and salt and serve while hot. For the leaves prepare them as you would with the spinach aforementioned. These chips are truly flavorful and are a good food choice.