Easy recipe: Sticky capsicum wings
Recipes By
Chef Ali Mandhry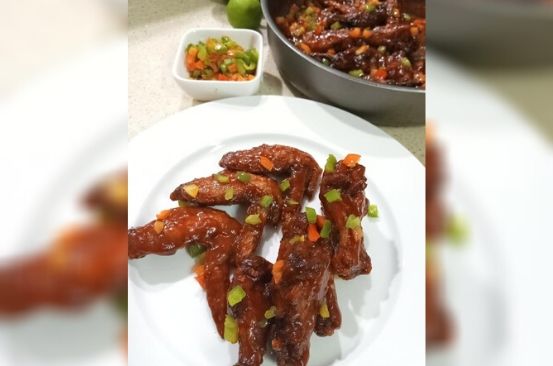 These wings are super delicious and easy to make. We will add some honey and lots of lime juice to make it tangy and then some red and green capsicum cubes to complete the dish. Let's get cooking!
ALSO READ: Beef soup to warm your bones
What you will need:
500g chicken wings
1 teaspoon black pepper
Salt to taste
1 and 1/2 teaspoon garlic ginger paste
1 tablespoon vinegar
1 teaspoon paprika
ALSO READ: #EasyRecipe: Coconut glazed pan chicken
Oil for frying
To make the sauce:
2 tablespoons butter
1 green capsicum diced
1 red capsicum diced
1/2 teaspoon garlic ginger paste
250g ketchup
ALSO READ: Recipe: Simple vegetable curry
1 teaspoon paprika
1 tablespoon honey
50g tomato paste
Juice of 2 limes
What to do:
1. Marinate the chicken wings with black pepper, salt to taste, vinegar and garlic ginger paste. Give it a good mix, add some paprika and continue to mix until well combined. Let the chicken wings stay in the marinade for at least one hour.
2. Deep fat fry the chicken wings until golden brown and crispy and set aside.
3. In a non-stick pan over medium heat, add 2 tablespoons of butter and the diced green and red capsicum. Sauté until fragrant and then remove from the pan and set aside.
4. In the same pan over medium heat, add the garlic ginger paste, tomato ketchup, paprika and 1 tablespoon of honey. Bring the mixture to a boil and let it cook until thick.
5. Add 50g of tomato paste and then squeeze in the juice of two limes. Continue to cook. Once it has thickened add your fried wings, making sure the sauce coats the wings. They are now ready to serve. Enjoy.