Malaika Chunji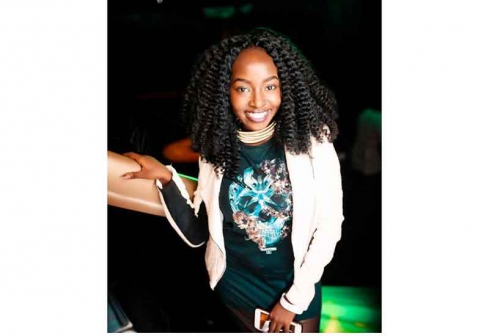 ALSO READ: Naomi Campbell sees Black Lives Matter altering fashion and beauty industries
Christine P Nteere is a freelance hairstylist. She tells Malaika Chunji how her first attempt to do her own hair paved her way into a world she had never dreamt of.

MY BACKGROUND
I'm an Actuarial Science student at the University of Nairobi but I have taken a break from studies to focus on my business, but planning to get back to studies in the future.

THE IDEA
I used to have my hair done in Kenyatta market and I'm the type who used to go with pictures from Pinterest of how I'd like to have my hair done but they never really used to execute it as I wanted.
During one of my searches online, I came across a video on "How to crochet Marley braids'. I thought, why not give it a shot! By then the crotchet style was still so new in Kenya. I didn't know of anyone who could do that hair style then plus even the braid used was a bit rare, or so I thought.
ALSO READ: Woman forced to hide at home after lip filler fail left her with 'baboon's bum' pout
I embarked on a search for the hair and the crotchet and I was lucky enough I got what I was looking for. Having spent Sh 2,000 on the hair, I was left with no cash to pay for the styling. That's when I decided to try installing it myself and it came our pretty enough to my shock.
I started getting positive feedback from my friends which really boosted my confidence. One of my friends requested if I could style her hair like that. This time it came out even better as I was doing it on someone else's head. It was super challenging but I was happy afterwards.
One day as my friend was walking in town, she was stopped by someone who asked for my contact and after I did her hair, I realised it was a good business idea worth exploring. I set my mind on starting a business but most of first clients were referrals from friends and other clients who got happy and satisfied with my work

WHAT HAPPENED NEXT
I wasn't too keen on it in the beginning since my studies were taking most of my time. When I began I could do maximum four clients a month. In December 2015, a client called me from Nakuru and asked if I could travel to there and do her hair. I travelled to Nakuru and since then she has been client. This was a great lesson for me as I realised the demand for my service was there.
So then on I decided to open a social media account for business and the response was amazing. I moved from four clients a month to four in a day.
So all of 2016 I was working , my business was growing , school was getting intense, then I introduced a new Service - the faux locs and goddess locs but in crochet form. By January this year, I'd gotten so much exposure and had done a few celebrities and that in itself was extra marketing and that's when I figured life was taking a toll on me I needed to slow down and focus on one thing. I took a year off school and decided to focus on my business.
ALSO READ: Four ways to help you maintain your curly wig

RUNNING A STARTUP
In this business, you have really to be quick and keener to catch on trends. In August, I went to California, USA for my Sisterlocks™ Training. I used this chance to market what I do there as well and I also got a few clients I offered my service to.

WHERE I AM NOW
I have a range of different services I offer ranging from crochet braiding and anything locs (faux locs, bohemian locs, goddess locs , sisterlocks and brother locks as well). I'd love to delve into training and give people a hands on crochet training and grow my business such that eventually it's not necessarily a one woman show. I believe in any business you need to keep an open mind and take criticism wisely. Decipher when it's proper criticism and act upon it to make things better and also when people are generally just being haters and don't wish you well because we have competitors out there.

YOUR TIP
The greatest tip in surviving in business for me is resiliene. Be strong-willed, open to learning, always yearn to push harder, learn from your mistakes and correct them if possible, do the absolute most, never be discouraged, do not compare your now with any other person's reality. Be your own competition, have goals and aim to accomplish them. My goal as a hairstylist is to give women options that suit theyr schedule which is why most of my work comes from house calls.