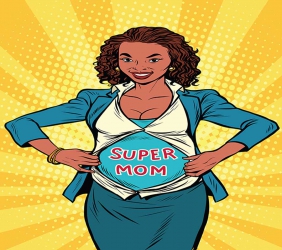 ALSO READ: Exercise and postnatal depression
A few days ago the entire world was engulfed in celebrating mothers both young and old. I got a few messages here and there but nothing tickled my fancy. I would have wanted a gift from my husband and daughters; a poem or a romantic dinner perhaps. Just anything to make me feel appreciated. Let's just say my dreams are valid: Next year might be different.
I am blessed to have two mothers. My mother in law Wambui is smart and her wisdom baffles me daily. She is tall, slender and looks good for her age; her culinary skills are authentic to say the least. My birth mother Wagikuyu is fashionable; she owns a fedora hat which I plan to own in the near future. We talk about the latest hair styles and shop together. She really looks out for me especially where my health is concerned.
Wagikuyu and her husband Ng'ang'a brought us up in the beautiful village of Kimende, a town largely associated with cold weather and carbon dioxide mining. Word goes around that my grandfather discovered the carbon dioxide and informed the white man whose cows he herded. But that's a story for another day. Wagikuyu was a small scalefarmer and I remember she had a cow named Kageni, a beautiful healthy freshian with brown and white patches.
While growing up, I witnessed Wagikuyu only cry twice. The first time a herd of big burly elephants invaded her farm and did away with nearly the entire potato harvest. Those beautiful ungrateful beasts had carefully harvested my mother's potatoes and heaved the potatoe leaves carefully in one corner. Thank God The Aberdare Forest has since been fenced and farmers no longer have to worry about the elephants. You should have seen how somber we were transporting the remaining harvest home, which Wagikuyu sold at the local market and bought herself a white cardigan with the money earned. I think she deserved it.
The second time was when her cow Kageni went on rampage and fed on the neighbors napier grass. An angry, machete wielding old man walked in to our house and demanded payment. Well, she did not have any option but to oblige.
Motherhood as I have come to learn is a beautiful journey full of challenges.
I became a mother at the age of 28 to a beautiful baby girl we named Misha Wambui after my mother in law. The first time I cried as a mum was when Wambui cried consistently for a while because she was hungry and just two days old. My breast milk was nonexistent. She had, and still has, a huge appetite. That little girl is in class one and at 6 years old, she is the epitome of our joy and I never tire telling her that she is our champion and our number one.
ALSO READ: Myths and realities of early motherhood
Our second born is a little angel named after my mother, Wagikuyu. A beautiful dreadlocked little lass who is independent to a fault. At just 3 years, her command of the Queen's language is impeccable. At 3 years she can hold it up even when she is unwell. We thinksshe will be a dentist some day.
Having a 6 and a 3 year old is fun, challenging (mostly), but cliché as it may sound, I wouldn't have it any other way. The fights, the sicknesses, the noise in the house, the broken toys, the endless questions. How could I forget the diva moments and the many times Wambui shortchanges her sister.
At times I feel like running away, and I picture myself lying on the sunny beaches of Bora Bora sipping a cocktail, but I am interrupted by "mum, are you listening?"
God chose me to create these beautiful souls with Him, He trusts me to eventually present to the world women of substance who will fulfill His purpose in this world. I cannot fail Him, I cannot fail my daughters, I cannot fail the many women who have been before me, who have done well and excelled in all areas of life and I am just not about to fail myself
I am blessed in many ways and I do not have to plant potatoes in the forest like Wagikuyu to fend for my family. But I do experience difficult moments in life. Miscarriages have become so common in my generation. Every woman has a story. Wagikuyu and Wambui belong to a different generation but we have one thing in common: we are women. We go through the same experiences only in different settings. Same script different cast.
Being a mother is joyful. It's finding the strength to do what is right during both good and bad days. Making sacrifices and holding everybody together, cheering them on, helping them realize their dreams and covering up for their shortcomings. Being a mother is about putting myself last and everybody else first. Above all else it is about having unshakable faith in God for one's family.
I may not have the resilience and patience like the beautiful women who I call my mothers. I may never measure up to them, but in my own small way I will do my part and do it well. I will ensure my girls attain their dreams; they have to go beyond the said glass ceiling.
ALSO READ: The debate around maternity leave
In two weeks' time, I will be bringing another beautiful human being in to the world, could be a boy or girl. I have no clue.
For More of This Stories Subscribe to the Standard Epaper to get a copy of Eve Woman in the Standard
P.S I pray that there is a woman out there raising my girls wonderful husbands….tall husbands to be precise because my girls take after their 6'1 dad.
Do not miss out on the latest news. Join the Eve Digital Telegram channel HERE.