Beryl Wanga Itindi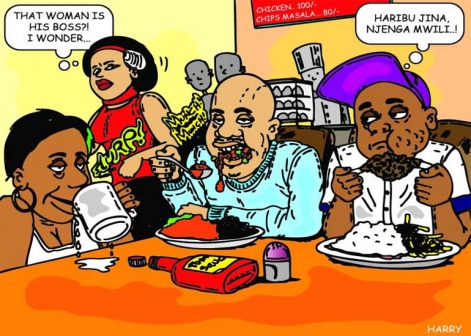 As much as love is sweet, sometimes it can turn out to be a bully. If you are not careful, love can end up bullying you and stripping you of your dignity. In fact, I have realised that love rarely multi-tasks, it either makes you a slave or makes you complete idiot, but it can never do both.
Sometime in 2013, I ended up on the wrong side of love. I started doing things I never liked but I just did them because whoever I loved wanted me to do them. One time, I found myself watching hockey with him yet I understood nothing about the sport.
I was monitoring him closely and emulating him so we could be in sync. At some point, he stood up and started running and I followed him thinking we were cheering only to realise he was rushing to the gents.
I was so much in love with James that I would cry whenever he travelled. Oh God, how I wasted my precious tears! To date, I cannot really understand what came over me! How I ended up going to his rural home to introduce myself to his parents is still a mystery to me.
As a matter of fact, let me just assume this man had gone to a 'jujuman' and they cast a spell on me. How can Beryl, daughter of Itindi and granddaughter of Wanga board a bus from Nairobi to some remote place in Nyanza to introduce herself?
There I was, on a motorbike in his rural area looking like I had just survived a tsunami because of the dust, I was riding from one home to another looking for his homestead as per the directions he had drawn for me on a piece of paper.
When I finally found his home, I hugged the first woman I saw thinking she was my future mother-in-law only to be given that look people give something the cat dragged in.
Wrong move! I wish he had warned me that there was an aspiring boxer in the form of an old woman who frequented their home. That aside, that evening I met his parents and they gave me a warm welcome even though they were not expecting me.
Surely men, how do you send your woman to your parents and fail to inform them about her visit? Why am I blaming you anyway? How could I, in my sane mind leave for a man's home to introduce myself in the name of love?
I am telling you love is such a manipulative emotion if it catches you on the wrong side. I sat opposite his parents that night answering questions religiously as if I was getting paid.
This man once lied to me that he had travelled to Democratic Republic of Congo for a month on an assignment only for to see him on TV among Gor Mahia fans during a match that was being aired live from a stadium in Mumias.
When I asked him via WhatsApp, he told me that since his employer was a football fan like him, and she had paid for a return ticket from DRC so they could watch the match and go back that very night.
He even sent me a selfie he had taken with his female boss and I believed him! I swear whoever had bewitched me during that period will be in the hottest part of hell on the Judgment Day.
When he finally 'came back' to Kenya, he invited me for a romantic dinner. Since I had missed him, I went to the meeting place in a rush only to find him with 15 of his friends -- and to make it worse, they were discussing hockey!
I want to do is thank the lady who came between us. You saved me! Last week, you posted a photo of you two online, watching hockey. I feel your pain because i know what you are going through. Also, the look on your face told it all.