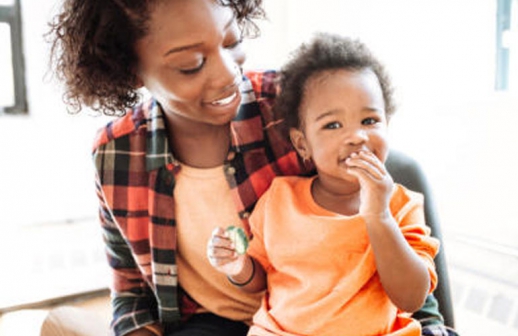 Being a baby is hungry work, which is why snacks play an important part in your child's diet. Young children have much smaller stomachs than adults, so it's crucial you give your child healthy snacks at regular intervals alongside her usual meals to meet her nutritional needs.
ALSO READ: Three things you need to know as a guilty parent
As well as helping to maintain energy levels and contributing to her daily nutritional intake, snacks are a vital opportunity to expose your child to even more tastes and texture, while also encouraging independent eating and motor skill development.
Here is guide to introducing snacks into your baby's weaning diet.
Starting out
When your baby starts weaning she won't be too interested in snacks but as she gets used to eating food and as you begin to drop her milk feeds, her hunger will increase and she will soon start embracing the additional small meals.
Experts advise that snacks should be introduced at some point between 8 and 10 months, but remember to allow for individual appetite variations. On average, two snacks per day are sufficient, one between breakfast and lunch and the other between lunch and the evening meal.
Timing is everything
One of the main concerns with giving your child a snack is the potential to spoil her appetite when it comes to actual mealtimes. To avoid this make sure that eleven and mid-afternoon snacks are time between meals and not too close to eating a meal or just after a meal.
ALSO READ: Ask the doctor: Should children also wear masks?
Think of snacks as healthy mini-meals and give them as response to your child's appetite.
Remember it's normal for young children to often eat a lot one day and then much less on other days. Look to your child for cues and don't get upset if she's more interested in playing with her food than actually eating it-no child will choose to go hungry.
Good and bad
Just like with her main meals, it's important to choose the right kind of snacks. Make sure healthy snacks are a regular part of your active infant's routine and opt for finger foods to allow your child the chance to practice her fine motor skills and co-ordination by learning how to self-feed.
A 'good' snack is one that has nutritional value, such as a hardboiled egg cut lengthways, sticks of cheese or vegetables. In contrast, a 'bad' snack is one without nutritional value but high in sugar, salt or saturated fat, for instance, biscuits, sweets, cakes or crisps. It's crucial not to think of snacks as treats, but as an opportunity t contribute to your child's nutritional needs and increase her vitamins and mineral intake.
Savory vs sweet
Babies are often more receptive to the sweet tastes of fruit rather than vegetables, so to avoid your child from developing a sweet tooth, make sure you include plenty of savory-but-not salty foods, such as vegetable sticks.
ALSO READ: Wanting to be a perfect mum making it harder to be a good parent
Savory snacks are preferable but even so, many can be high in slat and fat so make sure you stick to 'real food' whenever possible and avoid snacks intended for adults, or sweet snacks like chocolate bars or buns.
If your child wants something sweet, fruit is often the best bet. The occasional yoghurt is good too, but make sure to check the label as some yoghurts contain high amounts of sugar.
For More of This Stories Subscribe to the Standard Epaper to get a copy of Eve Woman in the Standard
Snacks on the go
If your baby is facing a long stretch of time in her pushchair or you're setting off for a long car journey, she will definitely appreciate a snack to avoid hunger pangs.
It's not always practical to eat on the move, but if possible try to bring some bite-sized snacks in a secure plastic storage box along with you. Pre-packed weaning snacks are convenient and easy to eat on the go, but always check the ingredients label and look at the nutritional content to see how much sugar and salt they contain.
Do not miss out on the latest news. Join the Eve Digital Telegram channel HERE.