Mercy Kahenda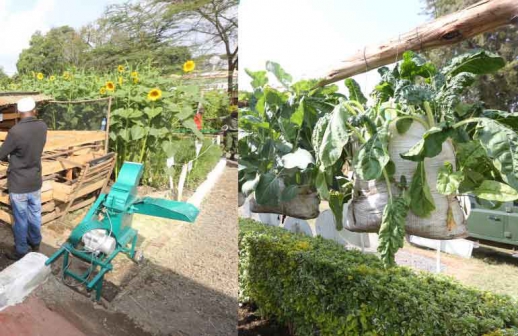 With an increasing population conscious of its health and as more town dwellers opt to produce their own food, better ways of urban farming are being introduced.
ALSO READ: Woman shares 'perfect' hack to get rid of weeds from your garden
Besides livestock stands, the Nakuru Prison attracted numerous show goers to the Nakuru Agricultural Society of Kenya (ASK) Show.
Its main attraction: an integrated urban farming method that entails a fish pond, a vegetable garden, a poultry house and a rabbit hutch.
In an interview with Smart Harvest, Nakuru Prison Inspector Jared Mokaya, the head of the stand, said in this concept, fish farming is the main venture. The fish is reared in controlled zones in controlled parameters.
Harvested water is stored in a tank and channeled to the fish pond. It is also used to irrigate the vegetables. Interdependence between the farming components is key as the fish, poultry and rabbits are fed with the vegetables.
Poultry and rabbit droppings are used as manure.
REGULAR MAINTENANCE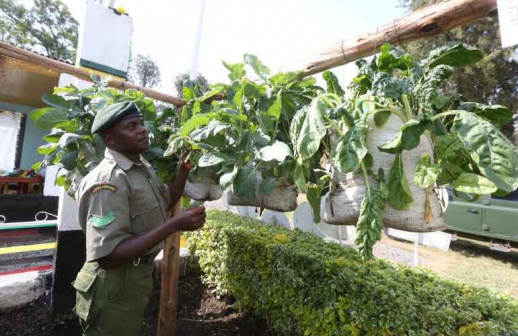 "The vegetables can be used to feed rabbits and fish while water from a borehole is used to irrigate the vegetables," says Mokaya.
The rabbit and chicken droppings are also used to 'fertilize' the fish pond to enhance growth of algae. Algae, Mokaya said, helps dissolve the oxygen consumed by fish.
To establish this kind of farm, a farmer needs a reliable source of water, preferably a borehole, a liner to separate the various farming components, sacks for planting vegetables and chicken net.
Before stocking the pond, Mokaya advises farmers to wait for four to seven days to allow natural production of food in the pond to reach a sufficient level.
During stocking, the farmer should introduce a number that can be sustained by the amount of feed stuff and manure expected from the other components of the farm.
Mokaya recommends introduction of size 5-10cm fingerlings for a well prepared pond.
If the pond is not poisoned or dewatered, larger size fingerlings, 10-15cm, should be stocked. Selected fish should be hardy and resistant to common diseases and parasites.
"Tilapia is best for integrated fish farming because it is tolerant to low oxygen levels and high organic content in the water," Mokaya says. Harvesting is after six months.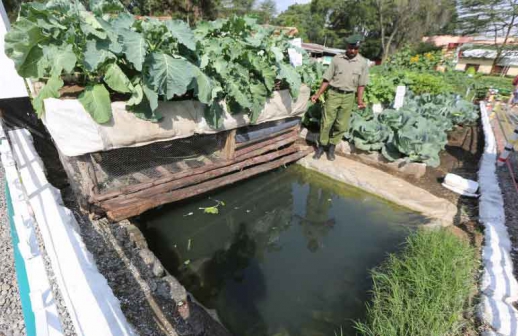 To achieve high yields, a farmer should carry out regular maintenance and monitoring by observing the feeding routine and looking out for predators. The quality of water is also vital for healthy fish.
It is therefore necessary to constantly screen the water inlet and outlet to check for leakages. Mokaya says integrated fish farming is easy to manage, cheap to maintain and requires a small space to establish.
"The height of the structure depends on the desire of a farmer," he says.
Although fish production is the more profitable component, in an integrated system, the poultry, vegetable and rabbit sub-systems must be self-sustaining.
With this new system, urban dwellers can also practise portable garden hanging where various crops are grown in sacks. During planting, the sacks are filled with subsoil which are low in acidic content with neutral PH.
The concrete inside the plastic container is used to spread the water evenly and assist in soil aeration.
Less labour is also required with the system and it is easier to control pests and diseases due to adequate source of light for the crop.