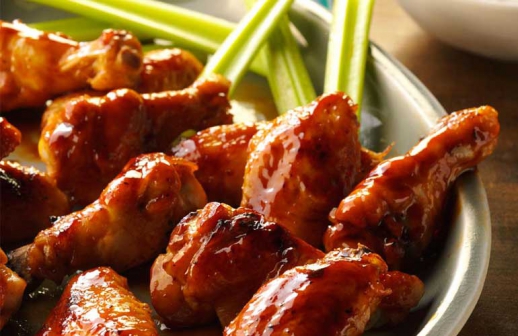 This is a great recipe for a biting or snack. The honey gives it a sweet taste and the choma sauce gives it flavor. Marinating the chicken overnight gives it more time for the flavors to infuse into the wings.
Serves: 2-3
Prep Time: 5 minutes
Marinating Time: 4 hours
Cooking Time: 20 minutes
Ready In: 4hrs 25 minutes
Ingredients:
READ MORE
1kg chicken wings
1 teaspoon vegetable oil
½ cup choma sauce
½ honey
A dash of dark soy sauce
Salt and black pepper to taste
Directions:
In a bowl, combine all the ingredients, mix well, cover the bowl then put in the fridge and leave to marinate for four hours (or overnight)
Remove the marinated chicken wings from the fridge and let them sit out for about ten minutes before cooking.
Place the chicken wings on a pan, spoon half the marinate juice over them and cook over medium heat.
Keep tossing until the chicken wings are cooked.
Garnish with parsley or dhania