Joe Ombuor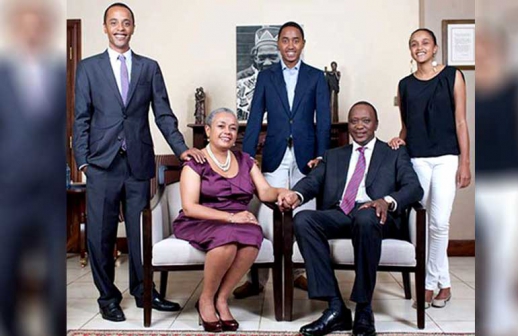 Kenya's first President Mzee Jomo Kenyatta married four wives, Grace Wahu, Edna Clarke, Grace Wanjiku and Mama Ngina. His children included President Uhuru Kenyatta, by his fourth and youngest wife, Ngina.
ALSO READ: Kenyan tech guru Dr Catherine Adeya appointed new director at World Wide Web
Little is known about Kenyatta's other wives and children. His eldest son Peter Muigai Kenyatta by first wife Grace Wahu was born in 1920 and died in October 1979, barely a year after his father's demise on August 22, 1978.
Peter Muigai Kenyatta was a prominent businessman in his own right and followed his father's footsteps into politics, getting elected the MP for Juja, a constituency neighboring his father's Gatundu. His father had appointed him Assistant Minister for Foreign Affairs.
Muigai featured conspicuously in his father's State funeral in 1978, accompanying the ceremonial gun carriage drawn by uniformed army officers that transported the body to its last resting place at Parliament grounds.
It was said the carriage was the same one that had carried war time British Prime Minister Winston Churchill's body 13 years earlier.
Kenyatta's second child was Margaret Rose Wambui, born in 1928. Margaret, now 88, was Kenyatta's favourite daughter and was the first and only woman Mayor of Nairobi in 1970 after four terms as councilor for Dagoretti ward in Nairobi.
She was Nairobi's third African mayor after Charles Rubia and Isaac Lugonzo. She served until 1976 and was succeeded by Andrew Kimani Ngumba.
Margaret, who today leads a quiet life, also served as Kenya's ambassador to the United Nations Environment Programme for 10 years between 1976 and 1986. She was the first woman in Kenya to serve as ambassador.
ALSO READ: Confessions: Why are Kenyan women so difficult to handle?
She had her early education at Ruthimitu Primary School and later attended Alliance Girls High School in 1947 as one of the pioneer students.
Peter Magana Kenyatta, who was once a presenter at the British Broadcasting Corporation (BBC), lives in London. He was the only child Kenyatta had with his second wife, Edna, who died in 1985 aged 86. Not much is known about Magana whose presence in Kenya has been fleeting.
Kenyatta's third wife Grace Wanjiku was the daughter of larger-than-life Colonial Senior Chief Koinange wa Mbiyu and sister to Peter Mbiyu Koinange, the powerful Minister of State in the Office of the President during Kenyatta's time.
It is evident that Mbiyu's immense power was by dint of the fact that he was Kenyatta's brother-in-law. Wanjiku is said to have died giving birth to her only child, Jane 'Jeni' Wambui Gecaga in 1950.
Christine Wambui Kenyatta, now Kristina Pratt, the first child of Kenyatta with Mama Ngina, was born in 1952. She is married to Victor Pratt with whom she has four children. Kristina has established many facilities for the disabled in Kenya and doubles up as an ambassador for the visually impaired.
Jomo Kenyatta was detained between 1953 and 1961 for his part in the organization of the Mau Mau movement, which explains the long hiatus before the arrival of Uhuru in 1961. Uhuru was the second child Kenyatta had with Mama Ngina and was named so to herald the coming of independence that was attained two years later.
He was a privileged child whose early life was spent at State House where Kenya's Miss Uhuru, Elizabeth Mumbi (now Mrs. Madoka) cared for him and his younger siblings. He attended Saint Mary's School in Nairobi, a Catholic institution where, according to records, he was an active member of the school's rugby team.
ALSO READ: Kenya's Lilly Awuor joins Borussia Pankow in Germany
He later proceeded to the United States of America where he studied political science and economics at Amherst College, Massachusetts. Upon his return, he successfully tried his hand at the horticultural business while managing some of his family's immense business holdings.
He first entered politics as chairman of the Gatundu branch of the then ruling party - Kenya African National Union (KANU) - on which ticket he once contested the Gatundu parliamentary seat and lost to a peasant, Mr. Moses Mwihia.
His political mentor, retired President Daniel Arap Moi, appointed him chairman of the Kenya Tourism Board, a move that pundits saw as intent to prepare him for a greater public role.
President Moi nominated him as a Member of Parliament two years later and capped his precocious growth with an appointment to the Cabinet as Minister for Local Government. He was appointed one of KANU's four vice chairmen and nominated as KANU's candidate for president on Moi's retirement in 2002. He lost to opposition leader Mwai Kibaki. In 2013 in contested elections, he succeeded Kibaki on a The National Alliance (TNA) ticket.
Anna Nyokabi Muthama, Uhuru's sister whose name has been dragged into the Ministry of Health's alleged Sh5 billion heist, was born in 1963. She is married in Makueni County. Little more is known about her.
Muhoho Kenyatta, Uhuru's brother, was born in 1964 and operates the Kenyatta family's vast business empire. They include the Heritage Hotels, Mediamax Group that owns K24 and the People Daily, Commercial Bank of Africa and Brookside Dairy, of which he is the executive chairman.
Jomo Kenyatta's only known sibling was James Muigai, the first boy to be enrolled at Alliance High School in Kikuyu during the school's opening in 1926. He was the father to Ngengi Muigai who upon Kenyatta's death inherited his Gatundu parliamentary seat.
Ngengi, a powerful figure during President Jomo Kenyatta's time, recently lost a Supreme Court case seeking to stop the Kenya Commercial Bank from auctioning a 443-acre piece of land he used as security for a 1988 loan. Ngengi ceded his seat to Zakary Gakunju after serving as Gatundu MP for a decade.
Ngengi's sister, Beth Wambui Mugo, was a long-serving MP for Dagoretti constituency in Nairobi until she retired from active politics citing cancer complications. She served as Minister for Public Health under President Mwai Kibaki.
Beth's sister, Christine Mwangi was the mother to Mbugua Mwangi, a nephew to Uhuru who perished alongside his fiancée at the Westgate Shop Mall terror attack in September 2013.
Also closely related to Jomo Kenyatta is Udi Gecaga, the husband to Jane 'Jeni' Wambui Gecaga who is the mother of Jomo Gecaga, President Uhuru Kenyatta's nephew who is his Personal Secretary. In the run-up to the 2013 General Election, Jomo Gecaga was the overall head of "Team Uhuru" that ran president Uhuru Kenyatta's campaign.
Former Director General of the Kenya Airports Authority, George Kamau Muhoho is Mama Ngina's brother and uncle to President Uhuru. He served as a Cabinet minister for Tourism and Education under President Moi.
Kenyatta's first wife, Wahu died in October 1979, second wife Edna, died in 1995 and third wife Grace Wanjiku, died in 1950 leaving only former First Lady Mama Ngina Kenyatta, the family matriarch.
Born Kamau wa Ngengi in Ng'enda village, Gatundu Division of the current Kiambu County to Muigai and Wambui, Mzee Jomo Kenyatta served as the first Prime Minister (1963–1964) and President (1964–1978) of Kenya.
His date of birth is somewhere in the early to mid-1890s.