Wendy Watta and Gardy Chacha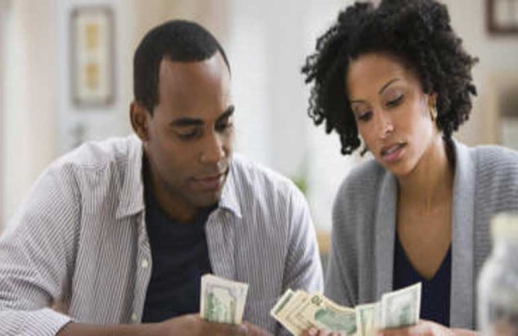 Money is a touchy subject enough as it is even before you throw in a life partner. Navigating the mechanics of financial management with your spouse can be quite tricky.
I bet you know of (or have been in) relationships that didn't quite take off or marriages that landed in divorce because of something as trivial seeming as finances. Till money do us part!
While on the hunt for a few household accessories, I met Winnie, 28, at her store along Ngong Road where she has a business selling interior decor items. I soon found out that she had recently got engaged to her boyfriend of three years, and her sentiments seemed to echo that of several women I'd been speaking to on the matter.
"This is Nairobi, and dating needs to be very practical and relevant to this society," said Winnie. "A man needs to take care of his woman, and the notion that what's mine is mine and what's his is ours only serves to simplify things.
We might all think that times have changed and women will talk about gender equality, yet go back to a first date scenario at a restaurant and even the most empowered woman would expect the man to pay for the meal. Besides, my fiancée makes much more money than I do so it only makes sense that he takes care of the bills and even gives me an allowance."
Whatever your thoughts on Winnie's statement, an allowance from your partner isn't exactly unheard of. Consider the case of a stay-at-home mother.
If both her and her man are comfortable with the idea and have agreed on how to share bills and responsibilities, he can give her an agreed upon monthly or weekly allowance. For this arrangement to work, however, the earner should never see himself as superior or see the allowance as a favour because taking care of the children and the house is a job too.
Devna Vadgama, 33, is a Sales Manager at EatOut Kenya who's been married for seven years. "It's good to come into a marriage with a sense of partnership and equality," she says. If you let the man pay for everything all the time, there's probably no way he's going to treat you as an equal.
As for savings, you can have one joint account where both contribute towards things like household goods or a holiday. Everyone should however have an individual account on the side. Having always been independent from a young age, I'm geared to think like that."
"You know, there was a three year period where I didn't have a full time job and while there were no restrictions on how I could spend the money that was available, it was just hard for me to have to consult with my husband every time I wanted to buy something. Today I can walk into a shoe shop, see something I like and get it. I like that independence of having my own account to draw from!" adds Devna.
Her sentiments are echoed by Jesse Opiyo, 38, a high school teacher who recounts tales of how his sister was left broken and penniless after entrusting all her money to her ex-husband.
"With finances, it's not like walking into a clothing store and finding a one-size-fits-all dress that looks good on every woman. I'm not even sure such a dress exists! Different things work for different people, and people's notions of money depend on how they were brought up. My sister got married young. In a bid to treat the man as the king of the home, she would give all her salary to the man to budget for the family and split it as he deemed fit. He would bank it, yes, but everything was in his name. When things went sour because he wanted to bring in a second wife, she had no claim on all the money she had saved all those five years and had to start all over again!" he narrates.
Of his own experience, Jesse adds that he and his wife have a joint account for all their money, it's in both their names, and that just works for him and his family. While his wife earns less than him, they can then get to enjoy a similar lifestyle.
Several opinions flowed in when I posed this very question on Social Media. If the responses were anything to go by, it is true, like Jesse said, that there really is no one-size fits all formula. It's all about seeing what's out there, trying new things and settling on what works for you. Some are even somewhat unconventional!
One friends stated that she and her husband keep two accounts. Everything comes into the first account, and they use that for priority bills like rent and even savings.
Money is then automatically transferred to the second account, and it's like a weekly allowance that they can then use for date nights, groceries, an outfit here and there and other such small treats.
Whatever method you choose to use, consider:
1) Planning the accounts
It is important to know the type and number of accounts a couple wants to work with. Whether they are joint or solitary accounts has to be decided by both parties.
"Joint accounts are good ideas but does not mean that it is necessarily the best for all situations," says Fridah Owinga of Passion to profit. "In fact, couples may agree to have separate accounts but still contribute a certain amount in catering for all the family's needs."
Before going down this path, it is vital to first ensure that you both have similar financial priorities and spending habits, otherwise you'll only end up constantly arguing if one person likes to splurge while the other prefers to save. Set spending boundaries and you should both learn to respect them by consulting your partner before crossing any.
2) Writing Budgets
The best financial strategy starts with a budget. According to Leah Karimi of Tips Financial Network literacy, a budget that outlines spending relative to earnings will make a couple's plans come true.
"Don't take any chances with life," she says, adding, "a budget will state the usage and no one is allowed to go beyond."
For this to work a couple should both have an open and honest conversation about how much is coming in and going out. You should then settle on how you'll be splitting the bills and in what percentages. If it's 50-50, make sure all your bills are cleared on time otherwise this again causes problems.
3) Partially merging
In so doing, everyone keeps their individual accounts for personal spending but agree on a given amount to contribute to a joint account for emergencies, saving for a house/car, etc. You should however both spell out exactly what the joint money is to be used for.
It would be unfair if someone withdraws some cash to buy a dress to wear to a function because it was an 'emergency', a word you both didn't initially define.