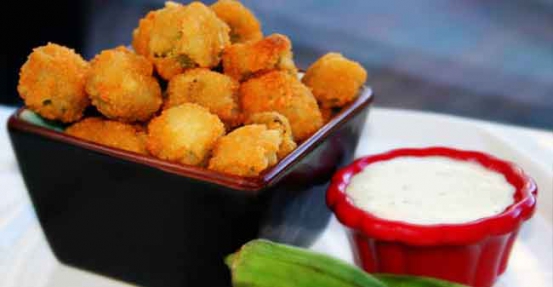 Vegetarian...not difficult and affordable. Being creative with meatless food is not a challenge if you have a creative bug. Here is one of my creative bug recipes.
Prep Time: 40 mins
Bake Time: 20/25 mins
Ready In: 1hr/1hr 5 mins
Ingredients:
½ kg okra (also known as lady finger)
½ litre butter milk
3 tablespoons vegetable oil
2 small egg plants
Salt and pepper to taste
½ cup pine nuts
Juice and zest of 1 lemon
500g corn flour
2 tspn cayenne pepper (optional)
Directions:
• Preheat oven to 2200C/Gas mark 7
• In a large bowl, place the okra, pour buttermilk over it, cover with cling film wrap, set aside for 30 mins
For More of This Stories Subscribe to the Standard Epaper to get a copy of Eve Woman in the Standard
• On a baking tray, layered with foil paper, drizzle some olive oil/vegetable oil over the eggplant cut side down. Bake until soft for about 20 mins. Reduce the oven heat to 2000F/1000C
• Once soft, scoop the meat of the eggplant onto a blender; add the nuts, 1 cup water, remain oil, lemon juice and zest. Puree until soft, season with salt and pepper then transfer into a bowl, cover and set aside
• In a shallow bowl, combine cornmeal, salt, pepper and cayenne pepper. In batches, dredge okra in the cornmeal mixture then deep fry until golden brown
• Serve hot with eggplant dip
Do not miss out on the latest news. Join the Eve Digital Telegram channel HERE.