The inside world of Size 8
Spiritual By
Rose Kwamboka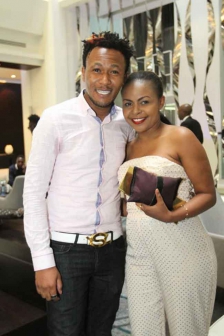 Linet Masiro Munyali, better known as Size 8, is a gospel artist best known for the hit single 'Mateke', which she released soon after transitioning from the secular music industry. Another release is 'Afadhali Yesu'. Now a mum and a wife she gives us a glimpse into her private life.
Now that I'm married and have a family, I wish someone had told me that family comes with a lot of responsibility and self-sacrifice.
What most people don't know about me is that I love spending time alone, contrary to the loud and extroverted persona that is Size 8. Solitude helps me unwind, boosts my creativity and productivity and I constantly rediscover myself and find my voice in a world that just won't keep quiet.
Because I am constantly in the limelight, I ignore the negatives. I am always Linet the wife and mother once I get into the house. I shed off the Size 8 celebrity person and consider it non-existent.
For us as a couple, Sunday is by far the busiest day of our week. You could call it our Monday. For starters, I have to wake up earlier than usual to prepare my husband for work. And then Sunday is my house girl's day off , so all the chores have to be done in good time before I leave for church.
From around 3pm, we hang out in the house if we do not have ministering engagements. If I compare my Sundays to my childhood days, I would have to say that as a child, it was routine to go to church till 1pm, after which we would always look forward to eating fries in the afternoon in town. It was like our day out.
And if look back to when I was single, especially before I was born-again, most Sundays would be spent sleeping o? the fatigue after an event the previous night.
Because I am a working mum and wife in such a busy industry, I have begun to appreciate the importance of having 'me-time' to relax and unwind.