Caroline Nyanga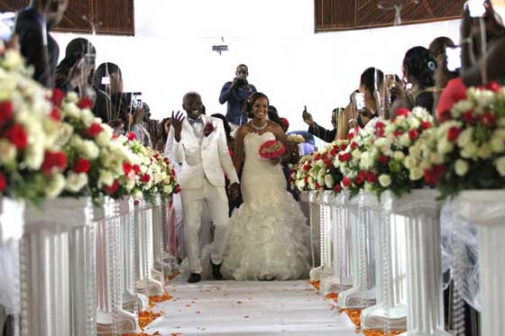 BRIDE: Farida Wambui Kamau
ALSO READ: It's been a minute! Lulu Hassan and hubby Rashid celebrate 11th anniversary
GROOM: Owen Mwatia aka Daddy Owen
GUESTS: 300
DATE: April 2, 2016
CEREMONY: Kenya Assemblies of God, Buruburu
RECEPTION: Radisson Blu Hotel, Upperhill
FIRST DATE
Daddy Owen: I met Farida at a cafe four years ago during one of my business meetings. Before this, I had performed a gig during a function at her office. Something about her struck me from the moment I saw her at the function. I knew she was the woman I would spend the rest of my life with. One thing led to another, and as they say, the rest is history.
ALSO READ: 'Rude' couple's wedding invite blasted as they sort guests into three categories
Farida: I often watched Daddy Owen perform as a celebrity and never thought that he would have eyes for me. However, as fate would had it on this particular day accompanied by my sister I felt the need to get to know him. I used the opportunity to convince him to perform again at our office, he agreed to my request. From then on we started chatting.
PROPOSAL
Daddy Owen: I like to keep my private life private. From the first time I saw her, I knew that Farida was the ideal woman. I learnt that we shared a lot in common and with time one thing led to another. Two years after we met, our friendship developed into deep affection prompting me to utter the magic words 'Will you marry me?' — during one of our private outings that finally led to our wedding.
Farida: It was the greatest moment of my life and a dream come true. In short we were simply birds of the same feather whose friendship grew into love, understanding and care.
THE DRAMA
We strongly believe that our wedding was a memorable private affair driven by God himself besides being a platform for us to spend time with close friends and family. It took us a year to plan for the wedding.
Tears of joy, jubilation song and dance rent the air as Daddy Owen and his best man, his elder brother Rufftone entered the church. I, in a strapless long flowing angelic wedding gown, followed shortly. The joyous tears at the moment of exchanging the vows turned the church into a scene straight out of a Mexican soap opera.
ALSO READ: Couple threaten to bar wedding guests if they break strict dress code
Daddy Owen: Despite the drama synonymous with any relationship that sometimes saw us keep off each other for close to three months, Farida is one woman who not only managed to tame me into a better person that I am today. She proved that she loved me for who I am as opposed to what I do. Farida is the first woman I ever introduced to my parents. They knew that we were staying together. The thing is that we are not hiding the fact that we are in love
Farida: Despite our differences, which is normal in any relationship, I was supportive of him without necessarily wanting to own him.
HONEYMOON
We will be having our honeymoon in Belgium, Europe.
PICTURES: ELVIS OGINA
WORDS: CAROL NYANGA