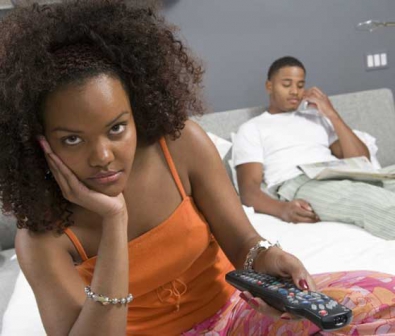 Break ups are heart wrenching. Whether you have been together for years or it was just for a short period of time, breaking a connection is tough.
ALSO READ: Soon-to-be groom left freaked out by fiancée's family's wedding night 'ritual'
When your relationship gets stuck in a rut and either party feel it is not working out the best they can do is to part ways. But how do you explain a text, phone call or email saying it's over when you think you are at the highlight of your relationship?
You are Lazy
Women are progressive human beings. Who automatically get turned on by a hardworking man who will do anything to put food on the table and look sexy while he is at it. We need to see potential.
If you are the type whose life rotates around the house, clubs and pool joints, she will not stick around for long.
Let me add that this is the group that will drain their ladies pockets dry without any remorse. The most common line in their relationship being 'honey, my Dad hasn't posted rent yet si you pay for me I will refund you'. Most certainly do not expect your lady to hang around if you are past 23 and you still call home to ask your parents for rent.
Clingy and Needy
If all you ever do is sulk around her and laden her with your numerous problems of how this or that is going wrong, you need a therapist not a girlfriend.
ALSO READ: Girl code: I don't make dramatic announcements
I do not have an issue with sharing problems and being supportive but sometimes it is just too much.
This is the type that has mommy issues and is overprotective. Ladies do not have time to play mommy to grown men, unless you have better things to say every lady you seek to have a serious relationship with will tell you adios amigo in a matter of weeks.
Too busy
I know now you are wondering, 'what do ladies want?'. Attention. That is what we want. Do not be too busy to a point that you push her to the sidelines.
In as much as we want you to have jobs and all, please find a balance between the two and make time for her. Your job will not keep you warm at night even if you wanted it to.
At the end of the day, when she tells you its over and leaves you for the guy next door, do not ask yourself what you did not give her. Attention my friend, attention.
Sex
ALSO READ: Why sexting is good for your relationship
Yes, I said it. Sex is a deal breaker in any relationship. It means as much to ladies as it does to men. Minimal action in the bedroom has been the cause of many breakups. Too much action on the other hand, well let's just say we are human beings not machines. Moderation is key.
For More of This Stories Subscribe to the Standard Epaper to get a copy of Eve Woman in the Standard
Do not miss out on the latest news. Join the Eve Digital Telegram channel HERE.
The views and opinions expressed here are those of the author and do not necessarily reflect the official policy or position of Evewoman.co.ke