Home
/
Hair
8 remedies for premature greying hair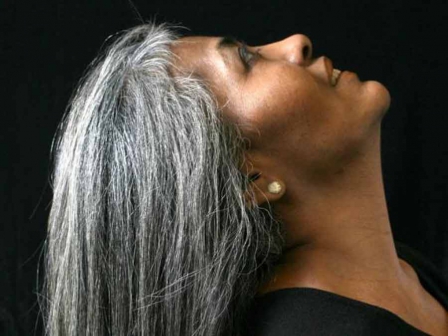 Grey hair has been trending for the past year or so. Some people, however, don't look forward to going grey. It is worse if one greys in their early 20s and 30s. Early greying is mostly hereditary but can also be caused by stress, thyroid disorders and poor nutrition.
Hair greys when it losses pigmentation melanin from the follicles. The good news is that instead of covering the greys with chemical-laden hair colours, there are natural ways that can slow down premature greying in its early stages.
Coconut oil: Massaging the scalp with coconut oil every night and washing it the next day will help fight greying.
Curry leaves: Add curry leaves in coconut oil and heat for a few minutes. Massage in the scalp and then wash off after an hour. The leaves contain nutrients that prevent premature grey hair.
Amaranth leaves: Boil the leaves in water and then use the water extract on the hair and scalp. Amaranth is an effective natural grey hair treatment as it contains an enzyme that improves the level of melanin and restores the natural black colour.
Amla: Dried amla can also be used to fight premature greying. Cut them into pieces and dry them in the sun; once dry, grind into powder then mix with coconut oil. Apply the mixture on your hair on a regular basis.
Hibiscus flowers: Hibiscus is good for hair growth, dandruff clearance and also delays premature greying. What's more, it is a mild cleanser that eliminates impurities on the hair.
Black tea: Use it to rinse your hair and you will notice the impact after a number of uses. Do not use shampoo. It darkens the hair and also adds shine. Black tea is loaded with antioxidants and caffeine that stimulate hair growth and improve strength.
Simply boil two tablespoons of black tea and one teaspoon of salt. Strain the liquid then use it when it is cool. Wash Doing this two to three times a week will give you the best results.
Almond oil and lemon juice: Use almond oil and lemon juice to nourish the roots of your hair using a mixture of the two; two tablespoon almond and three tablespoons lemon juice. Apply the mixture on the scalp and hair and leave on for 30 minutes then wash off with mild shampoo.
It also helps delay hair greying and promotes growth while preventing split ends. It is also good for treating dandruff and adds a glow to hair. Lemon has vitamins B, C and phosphorus that promotes hair growth.
Onion juice: Apart from restoring natural hair colour, onion juice also helps treat hair loss and thinning. For best results, mix three teaspoons of onion juice with two teaspoons of lemon juice. Apply the mixture evenly on the scalp and hair. Leave it on for half an hour then wash off with mild shampoo, Repeat the process at least every day for two weeks.
Henna: Apart from making your hair darker, henna also strengthens and conditions hair. Apply henna paste on your hair and leave it on for about three hours. Shampoo as usual.
Sage and rosemary: These herbs naturally darken your hair colour. Boil half a cup of dried sage and a similar amount of dried rosemary. Strain the solution then when it cools, use it to rinse your hair after shampooing. Repeat the exercise at least once a week.
These remedies do not give instant results; one has to repeat them regularly for a few weeks or even months to see noticeable results. Remember to also eat a healthy and nutritious diet.
Related Topics