Rose Kwamboka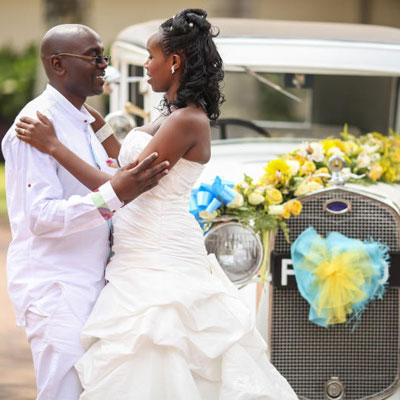 ALSO READ: Bride 'horrified' after finding out what happened to her ring before the wedding
BRIDE: Jacqueline Sang
GROOM: Albert Ngumba Kiguta
DATE: August 9, 2014
GUESTS: 400
VENUE: Ridgeways Park Hotel
PHOTO SHOOT: Windsor Golf and Country Club
BUDGET: Sh1.3m
ALSO READ: Grandmother marries her adopted son, 24, despite their 41 year age gap
FIRST DATE
Jacque: We met in Nairobi Institute of Computer Science college where I was a student and he was one of of the lecturers. I remember admiring him secretly but back in my mind I knew he was off limits. A few months later, my computer broke down and he offered to fix it for me and this yielded our first date. We went for a movie at the 20th Century.
Albert: We met back in 2005 at the college as she mentioned. Jacque stood out among other students so when I saw her, I looked forward to having a chat. When her computer broke down, I knew it was a blessing in disguise.
THE PROPOSAL
Jacque: He proposed during a couple's seminar we attended at Serena Hotel in September the same year. Towards the end of the session, the organiser asked if anyone wanted to talk, Albert rose up and went to the stage and proposed to me.
Albert: I was very nervous and not sure what to expect when I proposed. At the back of my mind, I knew she had feelings for me though I didn't know if she would turn down my proposal. Think of it as a first time skydiving lesson without a trainer; not sure if you will land, but I landed. She looked surprised and ecstatic but she said yes.
THE DRAMA
ALSO READ: Queen's incredible wedding present to Meghan Markle and Harry - and why it caused huge row
Jacque: Albert was transferred to Ghana and I decided to quit my job and join him. Planning the wedding away from home was the biggest challenge since we had to rely on other people to run errands for us. But we had an amazing wedding planner, plus our friends and family did us a lot of favours.
Albert: My entire outfit got lost on the eve of the wedding and had to get a tailor to do another one for me. Also, one of the bridesmaids got an accident three days to the wedding and we could not get a replacement in time.
IN HINDSIGHT
Jacque: We learnt that the rough edges will always be there, but what we have withstood over time and how far we have come in our relationship, reminds us that the love we have for each other will forever stand.
Albert: I found out that sometimes the Internet can be your best friend. Research helped us get through and reach out to whoever we needed. In addition, do not panic if something goes wrong on the wedding day, and somehow something always does.
MEMORABLE MOMENTS
Jacque: The photo shoot was real fun. Couples should always go for professionals. The wedding in its entirety was memorable since we had always wanted a white wedding and had vowed to wait and save up for it. I must say the wait was worth it. We had lived together for nine years but after the wedding, we felt like we were a new couple.
Albert: Jacque had no clue where we were to spend our honeymoon. It gave me great joy to spend time in Port Louis, Mauritius, one of the highly-rated honeymoon locations. She came to learn about it at the airport when we were checking in.
PHOTOS: Gathoni and Ben Kiruthi
INTERVIEW: ROSE KWAMBOKA