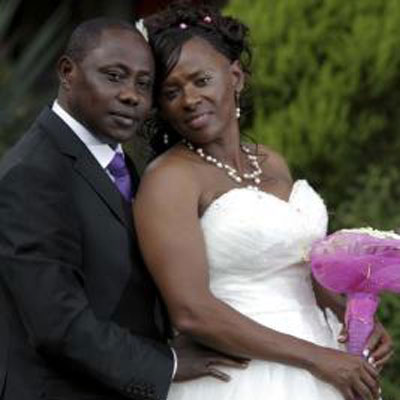 ALSO READ: Mother-in-law who defied bride's wishes taught lesson by wedding photographer
Bride: Felister Mwongeli Muthoka
Groom: Andrew Manthi Muthoka
Cost: Sh3 million
Venue: St Austin's Catholic Church at St Mary's School, Lavington
Photo shoot: The Norfolk Hotel
Wedding Date: August 16, 2014
ALSO READ: Bride walks aisle of empty church with photos on pews instead of wedding guests
HOW THEY MET
Andrew: I met this beautiful lady for the first time in 1987 in our small and quiet village in Makueni County. I spotted her from a distance and she came off as a lovely down-to-earth woman who would make the Proverbs 31 woman - wife, a mother and a leader that other women look up to. She is the kind of woman any man would be proud to take to their mother. I struck up a conversation with her there and then and ignited the binding cords of friendship. Those days, dating was not like what it is now with all the technology for communicating. If I wanted to express my love to her, there was no phone, I had to find her from whatever corner of the village she was and tell her my intentions. Ours was pure love.
Felister: This man swept me off my feet. In him, I saw a friend, a keeper, a provider and a protector. I saw a man who I could entrust my life with.
THE PROPOSAL
Andrew: Like I said, the first time I saw her, I saw a wife and the mother to my future children. So after courting her for a while, one bright beautiful day when the weather was perfect and the birds were chirping, I took her to a cosy hotel at the shopping centre and made my intentions known to her. We decided to have a customary wedding then we started living together.
THE DRAMA
ALSO READ: Bride shares 'rude' reply to wedding invite - but some think she's overreacting
Andrew: We decided to have a wedding 26 years after our customary wedding because at this point in our life, we felt we were ready financially for the huge burden. I think we have gone through all the tests of marriage and like wine, we have matured and are settled. We have two grown-up sons. We have gone through all the highs and lows of marriage and we can write a book about it. We have gone through all the storms in marriage and have emerged stronger 26 years on. That is why we decided to crown it with a wedding at this time.
Felister: Because of this background, planning for this wedding was stress-free. We knew what we wanted, invested in a good planner and she delivered beyond our expectations. Our planner gave us that peace of mind and everything went as planned. There was no drama or shockers.
For More of This Stories Subscribe to the Standard Epaper to get a copy of Eve Woman in the Standard
HIGHLIGHTS OF THE DAY
Andrew: I was humbled at the number of guests who turned up. It was simply amazing to see people from all walks of life coming to celebrate with us this auspicious occasion. From the elderly woman from the village, to high profile guests who included former deputy president Kalonzo Musyoka, governors and senior government officials. It was a joyous and humbling experience. We thank all the guests who turned up to make the event memorable. Most of my guests described the wedding as 'sophisticated and super-fun'.
LESSONS
Felister: Couples planning to get married should commit all their plans to God. Second, it is good to establish good friendships because they come in handy when you have a big project like a wedding.
HONEYMOON
Andrew: This was a precious gift from me to my precious wife and I prefer if the details remain private. But it was special, heavenly and refreshing. She enjoyed every bit.
INTERVIEW: HELLEN MISEDA
PHOTOS: COURTESY OF VERSATILE PHOTOGRAPHERS
Do not miss out on the latest news. Join the Eve Digital Telegram channel HERE.