Thugs nearly ruined our day
Bridal By
Daniel Irungu and Isaac Kaigi Thairu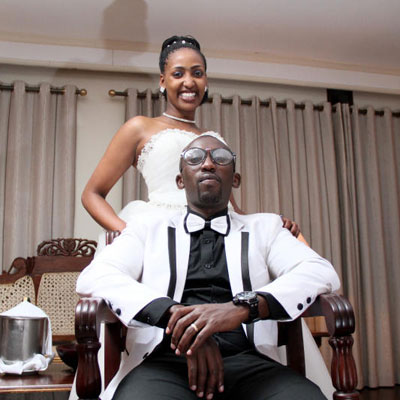 ALSO READ: Confessions: I think my neighbour is cheating on his wife, how can I tell her what I know?
BRIDE: Betty Kaindo

GROOM: George Mwangi

DATE: September 20, 2014

GUESTS: 500

CEREMONY AND RECEPTION: PCEA Kariobangi South Parish

BUDGET: Sh600,000

Photography By Daniel Irungu and Isaac Kaigi Thairu



FIRST DATE

George: Our first date was in town. All I remember is that I was very nervous.

THE PROPOSAL

Betty: It was two days before Christmas in 2012. After the church service, he asked me to take a walk with him but he didn't say where. We walked to town and at the bus stop, he suggested we take a ride to Rongai to see someone. We ended up at Nairobi Safari Walk. As we walked through the park, he suddenly knelt and proposed. It came as a surprise because I never thought he would propose that soon. But I was very excited. The memory is still so fresh in my mind.

THE DRAMA

George: Our décor guy had his tents, chairs and décor stolen the night before our wedding. Upon reaching the church, the décor wasn't done bearing in mind the reception was the same place as the church. I started to worry about where our guests would go after church but all this was well managed by our organising team. (Kudos to the team.....very amazing people and loving friends). Then the bridal car had a puncture that very morning hence Betty had to look for alternative means. But all was well in the end. What amazed us is that everything fell into place and we were not stressed on the D-day.

IN HINDSIGHT

If we were to do our wedding again, we would exactly do it the same. However, we learnt one lesson; to put our trust in the Lord and not worry at all because our God knows much better than we do.

MEMORABLE MOMENTS

Our honeymoon...we chose to keep this as a secret but we had the best time.