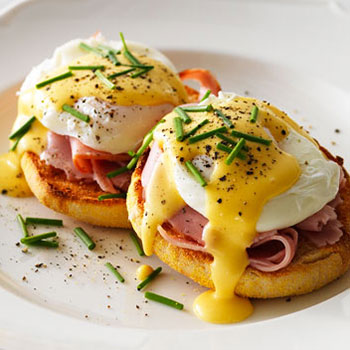 PREP TIME: 10 MINUTES
COOK TIME: 10 MINUTES
READY IN: 20 MINUTES
Hollandaise Sauce
INGREDIENTS:
Three egg yolks
One tablespoon lemon juice
1/8 teaspoon cayenne (optional)
Ten tablespoons salted butter
DIRECTIONS:
1. Melt the butter slowly in a small pot. Try not to let it boil because you want the moisture in the butter to remain and not steam away.
2. Add the egg yolks, lemon juice, salt and cayenne and lightly blend for about 20 to 30 seconds or until it lightens.
Eggs Benedict
For More of This Stories Subscribe to the Standard Epaper to get a copy of Eve Woman in the Standard
INGREDIENTS:
Four eggs
Four ham slices
Four brown burger buns, sliced in half
Salt and pepper to taste
Four tablespoons hollandaise sauce
Directions:
1. Arrange ham slices on one half of each burger bun.
2. Pour cold water into a medium sized pan to a depth of about 5cm/2inches and bring to a gentle simmer.
3. Crack gently two egg into the pan and let simmer for two to three minutes or until the egg white is set.
4. Remove the eggs from the pan using a slotted spoon and place on top of the ham.
5. Spoon the hollandaise sauce over the eggs, sprinkle with salt and pepper and serve immediately.
Do not miss out on the latest news. Join the Eve Digital Telegram channel HERE.