Eve woman team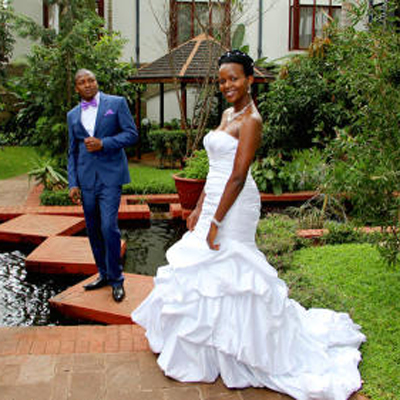 Bride: Matilda Mwemba
ALSO READ: Zendaya's epic transformation from Disney princess to queen of Hollywood
Groom: James Ouma
Ceremony: KARI grounds Nairobi and Windsor
Budget: Sh700,000
No of guests: 300
Wedding date: February, 8, 2014
THE FIRST DATE
ALSO READ: Tie the knot in style: You can now apply online for marriage services
Lucas: We first met in November 2003. Matilda was schooling at Flamingo High School in Nakuru and I had just relocated to their neighbourhood. We started sharing movies, visiting each other and one thing led to the other. Our first date was on February, 13, 2004 at a friend's place near the Nakuru Show grounds. The quiet environment provided a platform for us to know each other better.
Matilda: The first date was a disaster for me. When he said he was taking me out, I envisioned a lunch date at a hotel or something to that tune. Instead, he took me to his friend's house where we spent the entire afternoon. I remember breaking up with him at the end of our first date, but reconciled later on.
THE PROPOSAL
Lucas: I proposed on June 9, 2013. I took her for dinner at the Sarova Stanley and I waited until she was done with her dinner before I proposed. I was a bit nervous. I thought she would reject my proposal.
Matilda: It was on my birthday, and as is the norm, he took me out for dinner. I was, however, impressed this time round by his choice of restaurant. I did not suspect that a proposal was on the way. I remember being restless and trying to hasten our departure. He insisted that we stay a while longer as we enjoy the music. It was after dessert that he went on one knee and proposed, as the band joined in.
ALSO READ: #FridayFashionInspo: Be curvy and free like Joy Kendi
THE CHALLENGES
Matilda: I wanted a pool wedding but getting a venue for the same was too hectic, the places we visited were either already booked or too pricey. After two months of searching to no avail, I had to change plans and settle for a garden wedding.
The most interesting bit is that on the night leading to the eve of the wedding, my sister's child, whom I was staying with at the time started convulsing and had to be rushed to hospital.
That meant that all my plans for the day had to be cancelled or altered. On Friday evening, I frantically went in search of a hairdresser that ended up charging me Sh2,000 just to style my hair.
Later at around midnight, I was lucky to find a nail artist who charged me Sh5,000 to do my nails. It was out of my budget but it had to be done. I slept for two hours. On the wedding day, I woke up so exhausted, I dozed off through most of the wedding. I was not sure if I would pull through. Thank God I had a veil covering me.
In hindsight
Lucas: Wedding is the one event in life where you get to dictate what you want, if you can, make sure all your desires are met.
Matilda: Plan early and ensure you have your own money while budgeting.