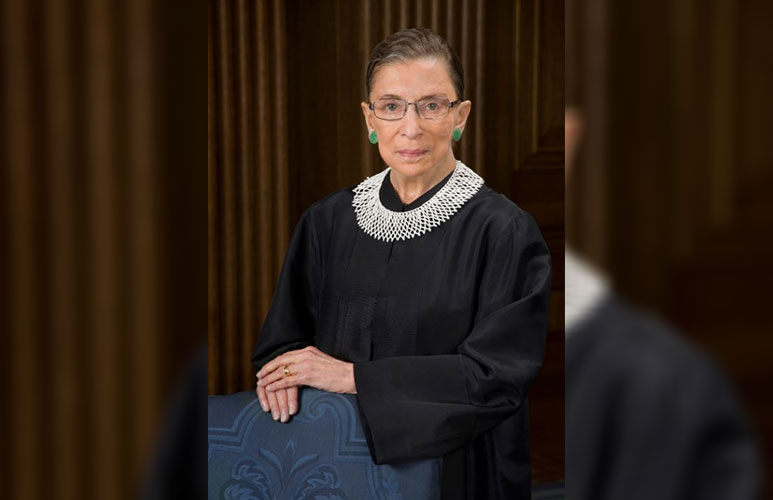 In a press statement dated September 19, the US Supreme Court announced the demise of Supreme Court Judge Justice Ruth Bader Ginsburg. Ginsburg was at the forefront of fighting for women's rights, a task she undertook with passion from the very onset of her career.
Born in 1933, Joan Ruth Bader's love for education was instilled by her mother. She excelled not only in her early education, excelling in high school, but she went on to break the glass ceiling in law school, a male-dominated world at the time.
In 1954, Ginsburg got her bachelor's degree from Cornell University becoming the top in her class. She met her husband Martin Ginsburg, who was supportive of his wife's education and career, later became a prominent tax lawyer, while at Cornell. They married that same year and had their first child in 1955.
Martin was drafted into military service soon after their baby's birth and at the end of his enlistment, Ginsburg enrolled at Harvard Law School. Her studies were rent with challenges. She had to balance motherhood, nursing her husband who had been diagnosed with testicular cancer, and gender discrimination. Albeit, she became the first woman to become part of the editorial staff of the Harvard Law Review.
Upon Martin's recovery, he got a job in New York, uprooting the family once again. Ginsburg thus transferred to Columbia Law School from where she completed her degree. She served on the Columbia Law Review and graduated first in her class.
On joining the job market, Ginsburg's odds were against her. She was a woman, there were very few women lawyers in the US at the time, and a mother. However, her Columbia Law professor managed to convince Judge Edmund Palmieri to give her a clerkship, a job Ginsburg held for two years.
Ginsburg's passion for civil procedure saw her study Swedish civil procedure under the Columbia Project on International Civil Procedure project. Through her research she co-authored the Swedish Civil Procedure.
READ MORE
Upon her return from Sweden, she was offered a job as an assistant professor at Rutgers School of Law and her focus was on women's liberation. Ginsburg war on gender discrimination was not solely focused on women's rights. She also fought for the rights of men who were sidelined with the help of the American Civil Liberties Union (ACLU).
She was the first female tenured professor at Columbia Law School.
In 1980, US President Jimmy Carter appointed her to the U.S Court of Appeal for the District of Columbia Circuit. Her attention to detail and practical approach to the law caught the attention of many. Thirteen years later, President Bill Clinton appointed her to the Supreme Court.
Ginsburg was unafraid of criticism and wasn't shy about sharing her opinion on cases, reading some of her dissents from the bench. The outspoken judge didn't let her advancing age stop her from giving an oral argument. Even as some called for her retirement, she expressed a wish to continue working. She continued practicing even with her failing health, she had been diagnosed with colon cancer and later pancreatic cancer, and the death of her husband in 2010.
Ginsburg was instrumental in bringing to light and changing laws that discriminate against women. She succumbed to the pancreatic cancer on September 18, 2020.