Home
/
Cooking Tips
How to meal plan with your partner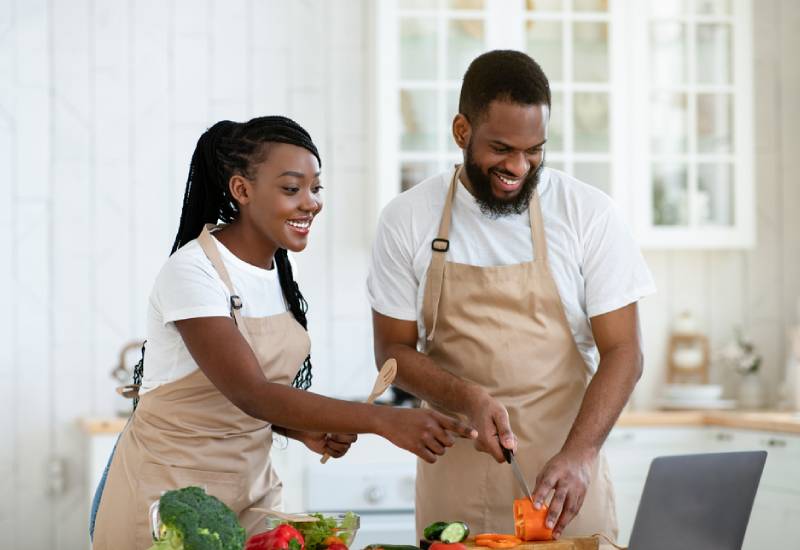 The benefits of meal planning are many. Whether you have read about them on your favourite food site or heard about them from your friends, you realise that having a meal plan will allow you to enjoy well-thought-out meals.
Planning your meals ahead of time can also streamline your budget, make grocery shopping more efficient, save you hassle on chaotic weekdays, and help you eat healthier.
However, meal planning is not without its stresses, especially if you are doing it with a partner. You and your significant other may not agree on the foods you should be eating, the amount of money you should be spending on them, or how often you should be eating in versus going out.
It should hardly come as a surprise, then, that meal planning can cause tension in a relationship. To save you arguments and keep you on track, we asked relationship experts for their best advice on meal planning with a partner.
Make a master list of meals to choose from
All you need is a good (and easy) place to start. Marriage coaches and authors Ashley and Marcus Kusi have a master list they go back to over and over again.
The list includes all of their staple and favourite meals, as well as special things they like to eat on big occasions or holidays. "We can then recycle this list and adjust accordingly every month, saving us time," they say.
Here's how to do it: Create a shared Google doc and brain dump all of the meals you and/or your partner can make, like to eat, or want to try.
If you want to be an overachiever, you can even break the list down into categories based on main ingredients or level of difficulty. Add to the list as you build on your cooking repertoire.
Making the list should be fun and, once you have the list, it will give you a starting place to talk through potential menu options together, instead of struggling to remember what your options are.
Be prepared to split the budget
As you and your partner begin plotting out a weekly menu and building a grocery list, one or both of you might get panicky about the budget, especially if you view finances from different perspectives.
If that is the case, you may need to get creative with your finances. "If meal planning and eating specific or more expensive types of food is very important to you, you should personally set aside a larger part of your own budget to cover your special meal plan or — even better — both your special plan and your partner's plan," says life coach and relationship expert Stacy Caprio.
"It makes (your partner) feel safe and allows you to choose exactly what you want to eat without worrying about the costs."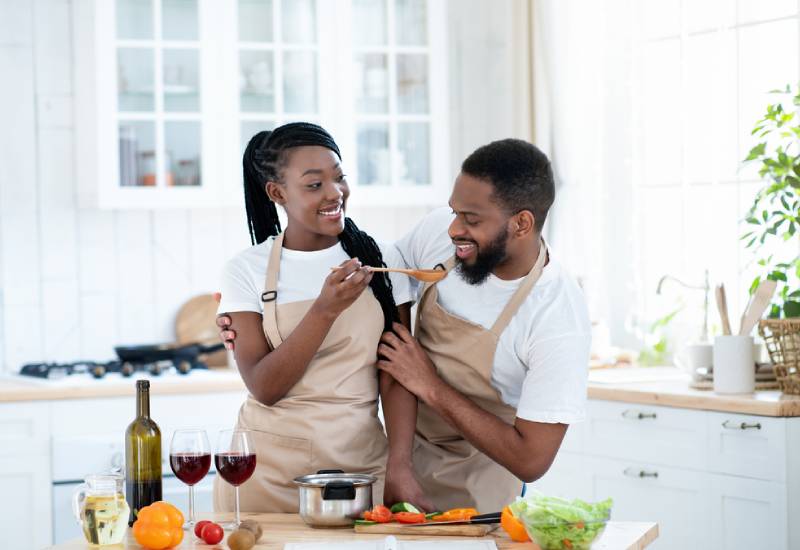 Respect each other's food stories
Food is about more than just ingredients on a plate — it is also related to memories, culture, family, body image, and health.
If you and your partner struggle to get on the same page while you meal plan, it might not actually be about the food at all. There could be more than you realise happening under the surface.
To minimise stress and fighting during meal planning, Caprio emphasises the importance of respecting your significant other's history with food. "This is a great way to help the other person feel understood, as well as to expand your own food horizons," she says.
Here's how to do it: Take time to talk about why you love taco night so much and why your husband says sandwiches are not an appropriate dinner.
This way, meal planning can even create opportunities for you and your partner to learn more about each other.
Use meal planning as an act of love
If you are familiar with Gary Chapman's five love languages, you may already be aware that some people receive and express love best through quality time or acts of service.
According to marriage and family therapist Amy Rollo, meal planning is as good a time as any for either of those things.
Here's how to do it: Turn a meal planning session into real quality time by turning on your favourite playlist and opening a bottle of wine.
Ease your way into the nitty-gritty of meal planning by chatting about your other plans for the week first. Then plan to do the cooking part as well.
Are acts of service more your thing? Volunteer to do the grocery shopping and the cooking once you guys settle on a meal plan.
The Kusis are big believers in the importance of keeping things fresh. One of their monthly meal planning practices is to have each person choose a new recipe to try.
Making it a habit to experiment with new recipes will keep the meal planning conversation from getting stale.
Related Topics