Home
/
Fashion Tips
#FashionTips: Five ways to style your biker shorts and nail it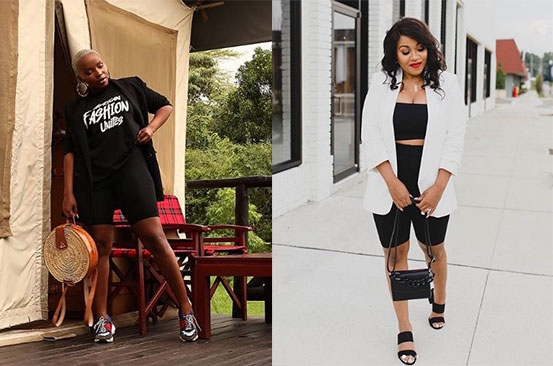 When biker shorts first broke into the fashion scene, it seemed like a crazy idea for ladies to dress in cycling shorts as a fashion piece. And even though it was met with resistance and skepticism, biker shorts are currently still trending and the style keeps getting fresher.
When it comes to dressing biker shorts, you need to be careful with how you pair your pieces. How you dress your biker shorts is what will differentiate it from the average cycling shorts to a closet staple. If you have a problem styling this piece, here are some styles you can try:
With an oversized blazer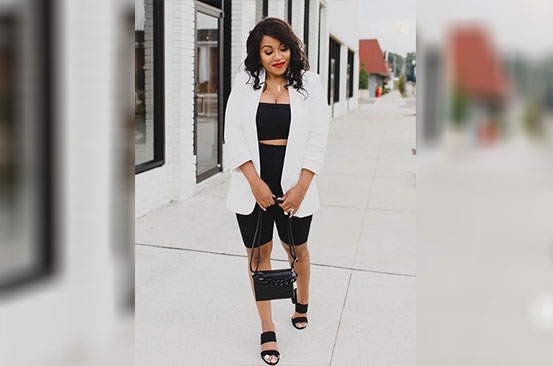 When it comes to pairing outfits, the first thing you should remember before anything is balancing your proportions. Since a biker short is small, obviously, you will need to pair it with something large on the top area to give your outfit structure. Depending on what you are going for, you can pair biker shorts with an oversized blazer of any colour and add a tank top or crop top on the inside.
This outfit can be paired with some white rubber shoes, ankle boots or sandals, depending on the occasion you are dressing for. In place of a blazer, you can also try matching your biker shorts with a denim jacket and see it work wonders to your outfit.
With an off shoulder top
If your style is more bold and expressive, you can try pairing your biker shorts with an off shoulder top. You can keep the middle area covered while your legs and shoulders go bare. This style is best suited for sunny days when you can go all out with light clothing.
Off shoulders are already a little exposing, depending on the kind of design you are going for, you need to be wary of how much skin you are showing. Too much skin may make you look skimpily dressed instead of sexy.
Match it with an oversized shirt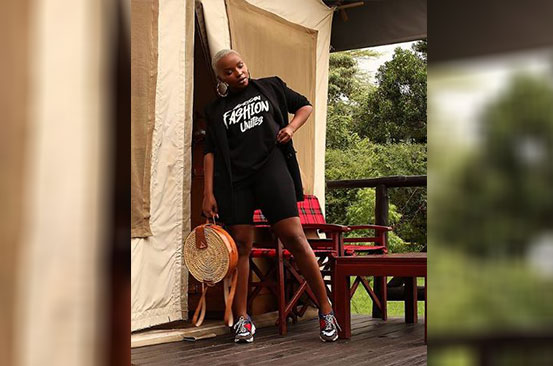 As mentioned above, it is all about balancing your proportions and if you feel an off shoulder will be a little extra you can go for an oversized shirt. Ladies if you love stealing your boyfriend's shirts, a biker short will give you a good reason to go for more shirts.
The best part is that you can give your outfit more structure by accessorizing with a belt. Depending on how large your shirt is, you can match it with a slim or chunky belt, the outfit will be perfect. This outfit combo is comfortable and effortless.
With a large sweater top
The best outfit combination you can try is matching your biker shorts with a classic large sweater top. Whether you decide to go with a round neck or turtleneck sweater, the final result will look amazing. The woolen sweater pairs well with the stretchy biker material.
This outfit should be a favourite because it doesn't take match of your time or need a lot of resources to pair. It is quick, easy and fashionable. To accessorize, you can add a funny pack or cut bag so the sweater can be more snuggly to your body.
With a basic T-shirt
When all is lost and you have nothing to wear, which is every day, you can match your biker shorts with an everyday T-shirt. They are after all a sporty wear. T-shirts and bikers although common, the blend will make your outfit look trendy and chic.
You can add a blazer to your outfit to give it an edge or depending on the weather, you can still rock it plainly. You can accessorize with a long string necklace to give your outfit a more feminine touch.
Tip: The best thing about biker shorts is that they come in a variety of colours. Try mixing prints, patterns, monochromes, everything you can get your hands on. There are really no rules to this style.
Sunday 13 is Grandparents Day. How will you celebrate your grandparents?
Related Topics