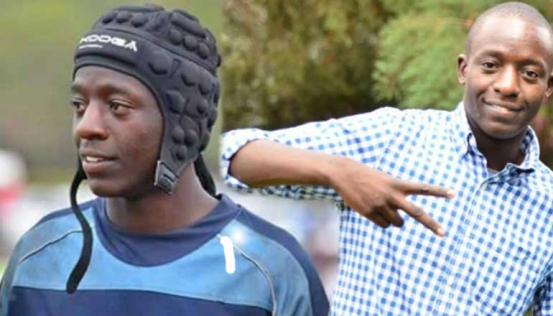 The cold hands of death have robbed Kenya's rugby freternity of an incredibly talented player.
Sylvester Ogeto Gecheo who played for 'Nondies' Rugby Football Club died while undergoing treatment at Aga Khan Hospital in Nairobi.
According to Nondies, Gecheo sustained an unjury after a disc slipped in his neck when he went for a tackle leading to spinal damage. His team was playing against Strathmore Leos at the University's Makadara grounds in Kenya Cup tournament.
The player was then rushed to Aga Khan Hospital where a team of medics performed surgery to affix the plates on his vertebral column. After a successful surgery, Ogeto recovered, but on December 6, he developed breathing problems and passed on at 3.00am.
Kenya Rugby Union described Ogeto's death as a most unfortunate incident and directed that a minute of silence be observed before kickoff across all leagues on Saturday, December 10, 2016 in his honor.
Gacheo who made his Kenya Cup debut in a 17-5 defeat to Homeboyz in November this year attended Maseno School where he was captain. It was during his tenure as captain that his team finished as runners-up in the national 15s games during the 2014 Kenya Secondary School Sports Association (KSSSA).
As Kenyans try to come to terms with the tragic loss, the question is how safe is the game in Kenya? In 2012, Aberdeen Shikoyi, the captain of the national Kenya Women's Rugby team, died from injuries sustained during a first leg match against Uganda during the 2012 Women's Elgon Cup. Like Ogeto, Shikoyi suffered a spinal injury; she was immediately rushed to hospital and later airlifted to the Kenyan capital for treatment. Her death would later be announced just after her team won the Elgon Cup.
And in July 2002, Nondies player Samson Odhiambo died 24 hours after suffering an injury during a rugby match. At that time, Odhiambo who was popularly known as 'Chumz' was believed to have succumbed to complications arising from a blood clot in his brain. Former Kenya Sevens coach Benjamin Ayimba who was Chumz's teammate at the time remembered his departed friend as a man who gave rugby his all. According to Benja, Chumz left Impala for Nondies in 2001, just like Ogeto who left Impala last year.
"Chumz was like my brother and we were always together," said Ayimba, "He was taken in for surgery to remove a blood clot in the brain. The procedure was successful, but six hours later, he developed complications and died on Sunday morning, just when we were preparing for Church."
Ayimba however maintains that rugby is a very safe game.
In a statement to newsrooms following Ogeto's passing on, Kenya Rugby Union (KRU) stressed that as the custodians of the sport in Kenya, highest priority is given to player safety.
"Saturday's fixture would not have been allowed to take place in the absence of the laid down safety regulations that call for the presence of a fully equipped ambulance on standby at the match venue as well as qualified match day and team medics, read the statement in part.