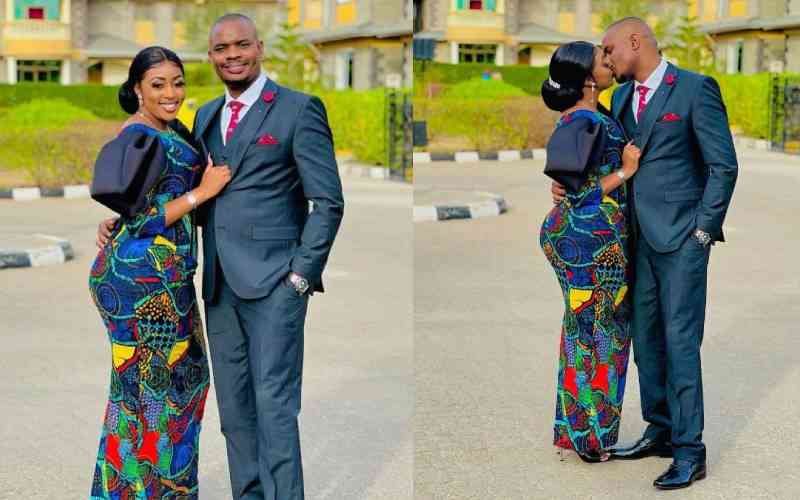 Socialite Amber Ray created a buzz on social media after a video posted by her sister Ellah on Instagram went viral.
The video showed Amber, beautifully dressed in a long multi-patterned African attire, walking up to her lover, businessman Kennedy Rapudo, and offering him a beverage amid a group of people.
Amber's sister had captioned the video, "Congratulations Amber Ray and Kennedy Rapudo. May God bless your union. I gained a brother today" – a statement which led many to believe that the couple was engaged.
Following the speculation and numerous congratulatory messages from fans, Amber Ray clarified that it wasn't an engagement. Taking to Instagram, the socialite posted a photo kissing Rapudo and explained that the event was an introduction saying it was "a huge step for us."
"Thank you all for the warm messages but, as usual….bloggers wamewatupanisha. It wasn't an engagement but an introduction (for parents to know that we are dating) which is a huge step for us," said Amber Ray.
View this post on Instagram
She further asked her followers not to put pressure on them to get married as they still want to savour the joy of this stage of their relationship.
"Ebu muwache kutuharakishia. We are just taking a day at a time and honestly I'm enjoying every bit of it @kennedyrapudo I'm so happy I'm going through this journey with you," she said.
The couple went public about their relationship in June this year after sharing photos on social media while on vacation.
However, after two months of dating, they broke up due to what they termed as 'irreconcilable differences'.
Asked whether they planned to get back together, Rapudo said, "Unfortunately no, she can be happy with someone else. She's a good person just like I said before and she deserves nothing less than happiness."
But rumours of their reconciliation soon started circulating after they posted photos and videos on their social media platforms at similar locations.
Well, it seems like the couple managed to get through their differences as they continue to plan for a better future together.
Related Topics