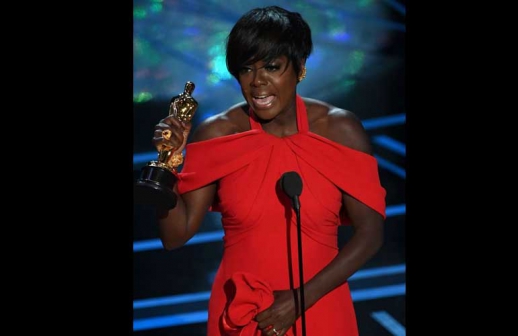 There wasn't a dry eye in the house after Viola Davis gave an emotional speech as she accepted the Oscar for best supporting actress.
The Hollywood star received a standing ovation and cheers as she won her first Academy Award for her role as a long-suffering housewife in the African-American family drama 'Fences'.
The 51-year-old, who has been nominated twice before for Doubt and The Help, had been the frontrunner for the prize all through awards season.
Holding her gold statue, a teary Davis said: "There is one place that only people with the great potential are gathered and that is the graveyard.
 Mahershala Ali becomes first Muslim actor to win an Oscar as he scoops Best Supporting role for Moonlight
"People ask me all the time 'What kind of stories do you want to tell, Viola? And I say exhume those bodies, exhume those stories, of people who dreamed big and never saw those dreams to fruition, people who fell in love and lost.
"I became an artist and thank god I did because we are the only profession that celebrates what it means to live a life."
Paying tribute to her co-star and director Denzel Washington, she said: "Oh captain, my captain, Denzel Washington, thank you for putting two entities in the driving seat, August Wilson and God and they served me well."
Davis had swept awards season in the role, taking home a Golden Globe, Screen Actors Guild statuette and numerous critics prizes.
In "Fences," the screen version of the prize-winning August Wilson play, Davis played Rose Maxson, a self-effacing wife whose modest life implodes when her charismatic husband insists on keeping a mistress.
On stage, Davis heralded Wilson, whom she said "exhumed and exalted the ordinary people."
A forceful and popular actress, Davis is known for playing strong women and for speaking out for better roles for women and people of colour.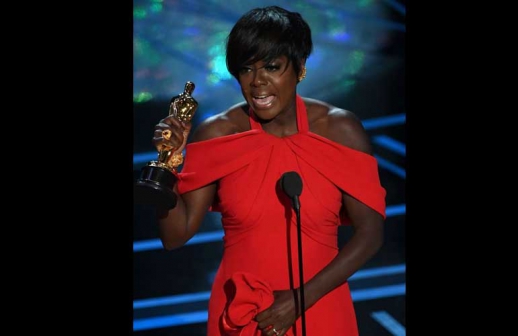 On television, she became the first black woman to win a lead actress Emmy award when she took home the statuette in 2015 for playing a conflicted criminal attorney in drama "How To Get Away With Murder."
Raised in an impoverished household in South Carolina and Rhode Island, Davis began acting as a teen at school and later trained at the Juilliard School in New York.
She began work in the theater, winning early acclaim. After years of doing small parts in movies, she made her breakout with just one scene in the 2008 religious film "Doubt," earning her first Oscar nomination.
Three years later she was nominated for best actress for "The Help," but lost out to Meryl Streep.