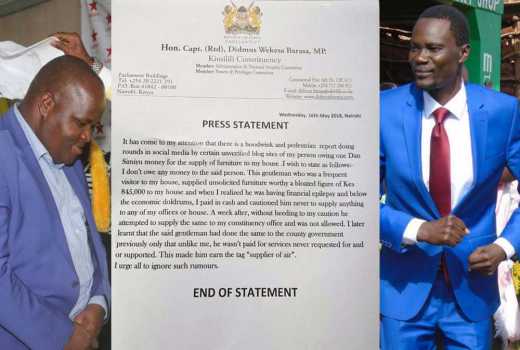 Two politicians from Bungoma County are locked in a bitter dispute over a furniture debt of close to Sh1 million.
Dan Simiyu, a city trader wants Kimilili MP, Didmus Barasa arrested for failing to pay for assorted furniture he delivered at his house in Nairobi last year.
Simiyu, who unsuccessfully contested for the Webuye East parliamentary seat in the last elections says months after he carted the items to the MP's Riverside house, he has totally refused to pay.
According to the  trader who has been in the furniture business for years, he supplied six leather seats, a six-seater dining table, glass coffee table, TV stand as well as two high density mattresses and one bed to the lawmaker on December 16, 2017, based on an LPO.
"He personally signed the delivery note and even acknowledged receiving the items. He told me I will be paid as soon as possible only for him to start dodging me.  All efforts to meet him over the matter have hit a snag as he doesn't even pick my calls," he said.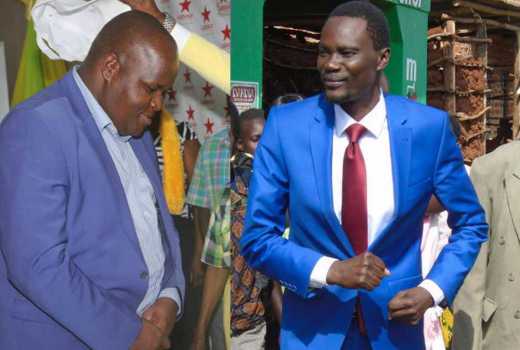 Simiyu who has since recorded a statement at Central Police Station in Nairobi (OB Number 67/14/05/2018) narrated to The Nairobian that the LPO the MP gave him issued by Kimilili CDF turned out to be fake after he asked for payment.
 "All I want is for the police to help me recover my money from the MP. He should also be arrested and charged with obtaining goods using false pretence," he told The Nairobian.
 The MP, who is a member of the Committee on Administration and National Security, has denied claims that he conned the trader.
The lawmaker, in an official statement insisted  that he does not owe anyone money.
"This gentleman who was a frequent visitor to my house supplied unsolicited furniture worth a bloated figure of Sh850, 000 to my house . When I realised he was having financial epilepsy and below the economic doldrums, I paid him  in cash and cautioned him never to supply anything to  any of my offices or house," he said.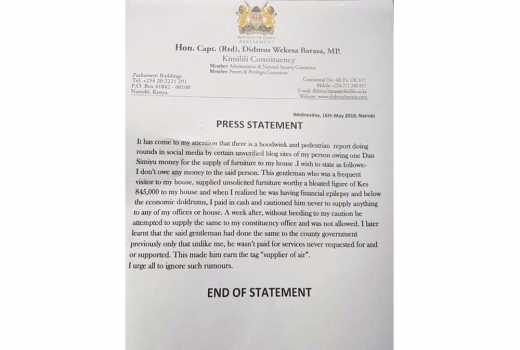 Barasa, who introduces himself as  a retired army captain in his statement goes ahead to  allege that a week after he cautioned the businessman against supplying unsolicited goods, he attempted to supply furniture to his constituency office unsuccessfully.
"He was not allowed to supply to the constituency office. I later learnt that the said gentleman had done the same to the county government previously only that unlike me, he wasn't paid for the services never requested. This earned him the tag 'supplier of air'," claims which Simiyu has denied.
"He purports I supplied 'air'. Go to his house and find out if he sits and sleeps on air. The leather seat in his living room and even the bed and mattress he sleeps on were supplied by me," insisted the businessman.