Cast: Michelle Yeoh, Stephanie Hsu, Ke Huy Quan, Jenny Slate, Harry Shum Jr., James Hong
Jamie Lee Curtis
Directed by: Daniel Kwan, Daniel Scheinert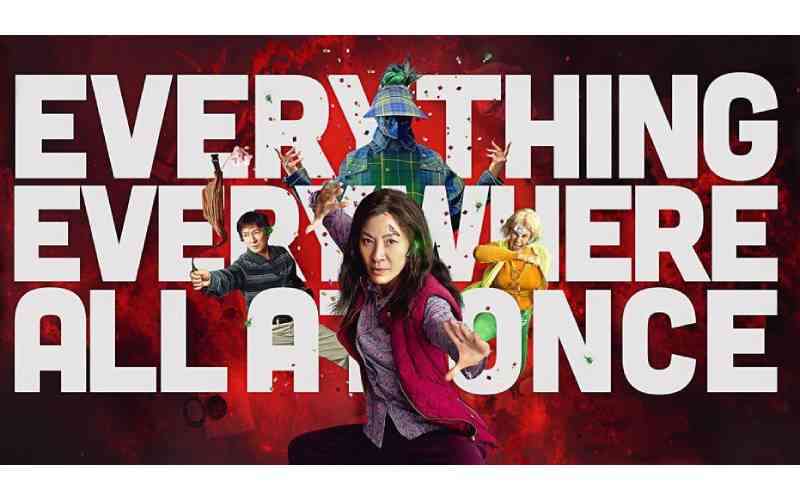 Genre: Adventure, Sci-fi
Rating: 8/10
With her laundromat teetering on the brink of failure and her marriage to wimpy husband Waymond on the rocks, overworked Evelyn Wang struggles to cope with everything. Then she is swept up in an insane adventure, in which she alone can save the world by exploring other universes connecting with the lives she could have led.
Thumbs up:
Profoundly deep, genuinely moving and imaginative. Michell Yeoh does terrific work in this, but the MVP is Ke Huy Quan (Short Round from the "Indiana Jones" movies). Everything Everywhere All At Once is bursting with so many original, weird concepts and ideas that no serious storyteller in their right mind would ever dare to put in their movie. The Daniels lean into the absurdity of the world that they have created, always reaching for the most outlandish possibilities and never playing it safe. This film is filled with action-packed sequences and many genuine laugh-out-loud moments. The script and performance help to amplify the comedic moment.
Thumbs down:
I will say there are times that you can get a bit exhausted by this movie. It throws a lot on the screen and at the viewer, and occasionally it cannot keep up with its ambitions. But this was mostly a home run.
Verdict:
Watch this for a real-life acid trip experience.
Related Topics