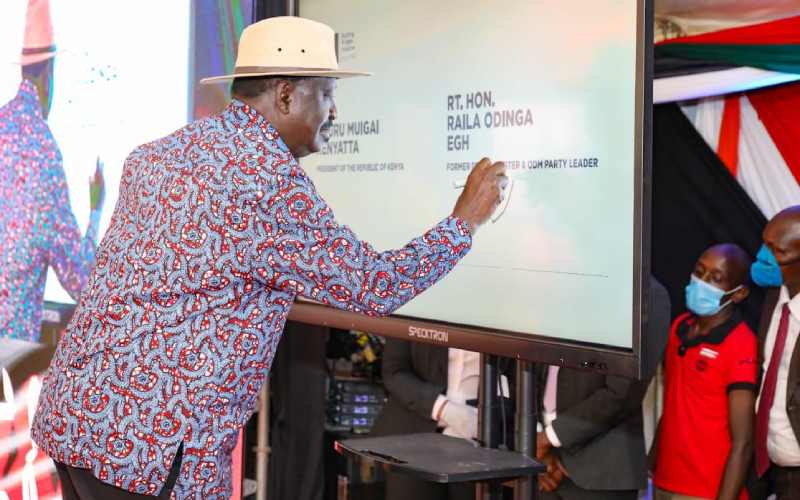 Some Kenyans can do anything to have Raila Odinga become president. Others pray daily that he should never enter State House — that neoclassical-cum-Palladian architecture by Herbert Baker — unless, of course, when visiting his 'brother' Uhuru Kenyatta. I will explain here what stands between Raila and the presidency.
As I have said, his faithful followers would wish Baba becomes president even if for one hour. It is possible. Yes, it takes seconds for a country to change its mood. We have evidence; twice Raila's political manoeuvres have curbed crises—first, during the 2007/2008 handshake (peace accord) with Kibaki. We all saw it again 10 years later during the 2018 handshake that switched on an unprecedented ceasefire for looming boycotts and picketing and against the Jubilee government's second term.
What gives Agwambo many hopes now is the political wind blowing from north to south. That Joe Biden has been elected president of the United States at 77 jump-starts Raila's hopeful battery. Moreover, Nelson Mandela became president at the age of 77. Mr Kamau wa Muigai, aka Jomo Kenyatta, is projected to have been sworn in at 73 and went on to rule Kenya for 14 years. Raila Odinga will be 77 in 2022—whatever you do with this, information is your business!
However, looking at the faces of all these men who climbed to the very top in their old age, either Raila is a political ratego (Dholuo for strong and enduring), or they lied about their ages—they looked older than him at their inauguration. Raila is not only young looking but sometimes he does some stunts to prove his agility. His resolve and will are in their 'teen' years.
Without doubt, Raila is the strongest among the standing members of "Young Turks" who in the 1990s haunted Kanu regime ceaselessly. While some like Martha Karua, Gitobu Imanyara and Paul Muite have toned down politically, the likes of James Orengo and Anyang' Nyong'o, and their proselytes like MP for Rarienda Otiende Amollo still believe Raila has ad infinitum chances in politics. Baby boomers have had such strong, admirable resolve.
Read More
Nonetheless, it seems age has not diminished Raila's quest for a democratic Kenya—neither has it humbled him. I recently came across an article by one of Joe Biden's aide arguing that age caught up with Biden and humbled him. He noted that younger Biden was an intolerant, no-nonsense politician always on top of himself. However, as years passed by, they pacified him into a humble, visionary and charismatic leader who has ousted the 'mighty' Donald trump. You know incumbents are not easy to unseat — in the global north and south.
Not Agwambo! At his advanced age, Raila is still overly ferocious, forceful and authoritative. His political loins are evidently energetic and infatuated. He is combative and ready to engage in political duels. Notably, his stand on BBI is absolute: 'NOBODY CAN STOP REGGAE'. And he means it. He is as vicious as he was in 1982, 1992, 2002, 2012 and 2017.
Like the Nigerian baby-spirit Abiku, Raila has renewed his political talons every 10 years since 1982. Two (2) in numerology is the number of possible division and verification of facts by witnesses—and at the same time; it portends a possibility of a strong union. This makes every Raila renewal a chapter of strengthening his nemesis' resolve and his supporters' base.
Beautiful butterfly
Moreover, Raila is still an enigma—neither his advisers nor his enemies have found ways of handling him. Sometimes, he is a caterpillar; very destructive and difficult to control. Other times and they are many, he's transfigured into a beautiful, cuddly butterfly that every citizen would love to caress. His followers have learnt the art of changing alongside him. But some have jumped ship for not understanding him. Nevertheless, all these instabilities have only worked for him — those who have tried to copy him find themselves outside the political roller mixer.
Raila has confused human right activists who see him as the light at the end of the tunnel. They bring on him burdens of hopes, forgetting that he is a full-time politician who moonlights as a human rights activist. Resultantly, most of them are flabbergasted whenever he begins his serpentine political moves; they call it a bluff and are turned into enemies—another undoing.
Well, here is the thing that stands between Raila and the presidency: His political communication — he advertises himself by marketing his opponents. If he sorts that out, State House gates will fling open for him. I rest my case.
-Dr Ndonye is a political economist of media and communication