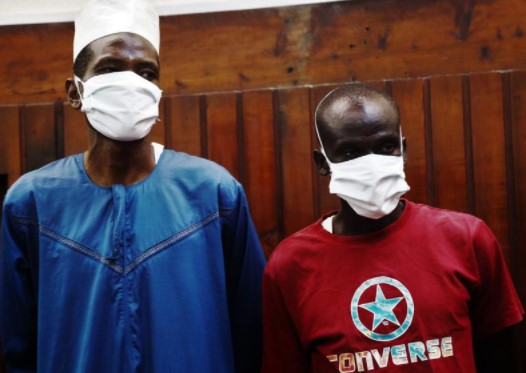 Two men who ganged raped a woman and tied her to the train tracks to be run over at Mombasa's Kibarani area have been sentenced to life imprisonment.
Stephen Mzee Thomas alias Kirenje and Steven Otieno Okalu were convicted of rape and attempted murder.
On February 17, Mombasa Senior Principal Magistrate Vincent Adet found Kirenje and Okalu guilty and ordered a value assessment report of the victim.
"I hereby find the prosecution made its case on both charges and the accused are hereby sentenced to life for attempted murder and gang rape," ruled Adet.
Kirenje was the woman's ex-lover and Okalu her childhood friend. He with the help of Okalu tied his ex-girlfriend on railway tracks at Kibarani, Mombasa in 2017 and left her for the dead.
DW told the court that she lost her legs when her ex-lover raped, stabbed, and tossed her on the rail track. The train severed her legs near the hips. She is now in a wheelchair.
She told Senior Principal Magistrate Henry Nyakweba that she was married to Kirenje for only a month before they broke up.
"Kirenje, who had been my boyfriend attacked me on the night of February 3, 2017, while I was walking home alone. Okalu stabbed me when I demanded to know why they were attacking me and proceeded to rape me and then they tied me on the railway line and left me there," she told court.
(DW) added that she tried screaming to alert the captain of her presence but it was too late.
She said the captain then approached her and upon realizing that she was alive and writhing in pain, called for help.