Mzee Pekeshe Ndeje anointed all and sundry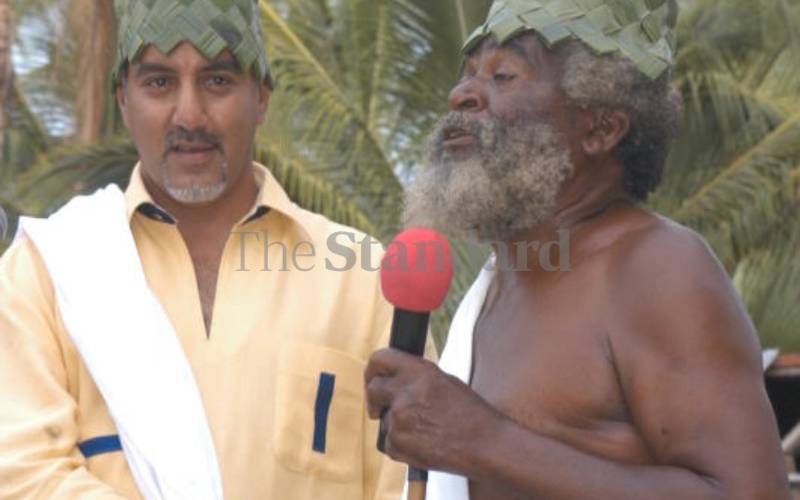 The life of the late Mzee Pekeshe Ndeje, who died in 2014, was controversial and mysterious.
Many people erroneously believe that he shot to the limelight after the demise of the revered Mijikenda elder Simba Wanje in 2007. Ndeje's claim to be the de facto leader of the Mijikenda kaya elders sparked controversy at the Coast, with other kaya elders rejecting it.
Other Kaya elders depicted him as "a leader of a cartel that was hawking the Mijikenda mark of quality to the highest bidder for political mileage." And indeed many politicians trooped to the shrines under his tutelage to be crowned Mijikenda elders in a bid to endear themselves to the voters.
Ndeje died on August 2, 2014, at the age of 90, after a long battle with diabetes and blood pressure. His life was intertwined with the country's political history, with some accounts revealing the country's oldest party, Kanu emblem, the cockerel, was his brainchild.
Like other elders with grey hairs, he was also a man on the run following the killing of the old Mijikenda elders by youths, who accused them of practising sorcery. Many believe the sorcery claims are often contrived by disgruntled members of the society to drive the elderly away from their land to hasten sale or succession.
Ndeje's life remained mysterious to his death after it emerged that at his heydays, he deserted the Mijikenda traditional way of life and converted to Christianity.
"Our father got saved in 2013 and was baptized the same year at Zion of Israel church. He started to express fears for his soul when his health worsened and was transferred from Kaloleni to Aga Khan in Mombasa," his elder son, Kedenge Ndeje, told this reporter during the burial.
Mzee Ndeje was buried according to the Christian traditions in what his 17 sons said was his instruction to "save his soul", sparking angst among the more traditional Mijikenda.
"He also insisted that our mother (Sidi Chideje) also be baptised, and she is now called Zipporah Sidi Chideje," said Kenneth Pekeshe, his other son.
But the assertion that he was behind the Kanu emblem is backed by historical accounts and pictures taken as he 'anointed' Mzee Jomo Kenyatta as a Mijikenda elder in 1960. He named him Jogoo (cockerel).
Though The Standard could not independently verify the claims, it is narrated by his family and Coast political leaders that during that baptism, Mzee Ndeje handed Mzee Kenyatta a rooster, and since then, the liberation party adopted the cockerel as its symbol.
"Yes, our father was the one who came up with the emblem when Mzee Kenyatta accompanied by Timothy Chokwe, the then Speaker of the National Assembly, visited him in 1965," said Kadenge.
During his burial, Kilifi Governor Amason Kingi said Mzee Ndeje should be credited for the Kanu emblem, which to date stands majestically against the Kanu clolours. But Mzee Pekeshe's association with politicians did not start or end with the first president. After serving as a security guard for the colonial government, he was in 1965 elected as a councillor in Rabai, serving until 1973.
He would later be associated with former president Daniel Moi before he decamped to former Vice President Oginga Odinga's camp in 1994 when he died. Former Prime Minister Raila Odinga, in his eulogy to Mzee Ndeje, had said Mzee was their family friend.
"I remember Mzee Ndeje very well. He was a family friend. When my father died, he came to Bondo to grieve with us for four days," said former Prime Minister Raila Odinga, in his eulogy to Mzee Ndeje.
In the 2002 campaigns, Mzee Ndeje was to support President Mwai Kibaki after Raila moved to NARC, and it is that time that he coroneted Kibaki as a Mijikenda elder in Mnazi Makapuni, Kaloleni Kilifi County. He named him Kadenge. He would later also anoint Raila in Ganze and call him Kakweli, meaning a sincere one.
As he intensified the anointment of political leaders who sought to win the allegiance of the Mijikenda people, debate ragged whether he was a true Kaya elder. Other Kaya elders called him a political broker, claiming he had impersonated Mzee Simba Wanje. In 2007, he was forced to clarify that he was Simba wa Inje (outside lion), but the homonyms of the same names kept puzzling many.
To date, political leaders have continued to call Mzee Ndeje a Kaya elder despite clarification from azhere a Kaya (male kaya elder), that he was not one of them and that he never underwent any secretive ritual training at the shrines.
"The man was not a kaya elder. Kaya elders will not even attend his burial or perform burial rituals befitting one of our own. Those politicians he conned should go and bury him," said Mzee Biga Rero, the then chairman of Rabai Kaya, where Ndeje said.
Other observers explained that during the burial of a kaya elder, there is always no wailing or tears from the mourners, but Mzee Ndeje's burial was different.
"Mourning is forbidden during the burial of kaya elders. Mzee Ndeje was not a Kaya elder but a Mijikenda political elder," said Nguma Charo, one of his disciples.
Charo has since graduated, and he is currently the elder in the Mijikenda Kaya hierarchy.
"I'm still a few steps away from being the real Kaya elder, but I thank the late Pekeshe for his guidance," he said.
He said that before his demise, he was involved in a crusade to push the Government to solve the historical land injustices in the region.