KWS rangers charged with murder of herder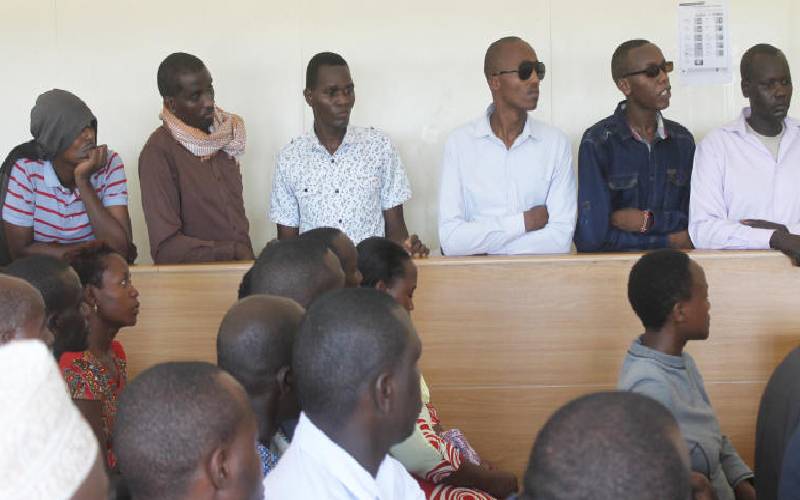 Six Kenya Wildlife Service (KWS) rangers have been charged with the murder of a herder in the Tsavo East National Park.
William Lopolian, Joseph Mbugua Njoroge, Duncun Gichuki Irungu, Santos Opiyo, Diba Gonso Banchale and Mohamed Kullow Dube denied murdering 50-year-old Lami Bocha on December 24, 2018 at Huri in Tsavo East National Park, Tana River County.
The prosecution led by Stephen Kasyoki and the victim's counsel led by Judy Ithuku opposed the release of the accused on bond, saying they were a flight risk and could interfere with witnesses or intimidate them.
They told Garsen High Court judge Roselyne Korir that affidavits by the investigating officer Charles Ater contained compelling reasons why they should be denied bond.
The accused, they said, have been unco-operative, have forged documents and even turned up for interrogation armed, thus intimidating the officers investigatibg the case.
"They had been summoned but failed to turn up several times for interrogation. If they are granted bail they will abscond court," said Kasyoki.
He added that if released on bond the accused would interfere with witnesses and intimidate them and that they declined take plea when they were appeared before a Malindi court.
"The seriousness of the crime and circumstances surrounding the offence is punishable by death and this case is very unique in that there have been many cases reported by the community of their members being executed by KWS officers. We want the court to send a message by denying the accused bail or bond," he added.
The defence counsel led by James Mouko and Duncan Nyongesa defended their clients' bond applications, arguing that under the Constitution any suspect is entitled to reasonable bond terms.
Nyongesa termed the prosecution's argument that the suspects were unco-operative a ploy to deny them their constitutional rights.
"A suspect cannot be forced to give self-incriminating evidence and police have wide powers to carry out their investigations and so to say they were not co-operative is untrue," said Nyongesa.
He added the accused did not reside in Garsen where the witnesses come from and they will never be in a position to get in contact with them if released on bond.
Justice Korir said it will take longer for the court to deliver a ruling on the bond application.
"The parties have heavily contested the bail terms and it will require seven days to rule on it and the courts are going on recess from tomorrow until the 25th of April 2019," she said.
The suspects were remanded at the Malindi Mtangani Prison.