Teenage girl has exposed the failures of our police service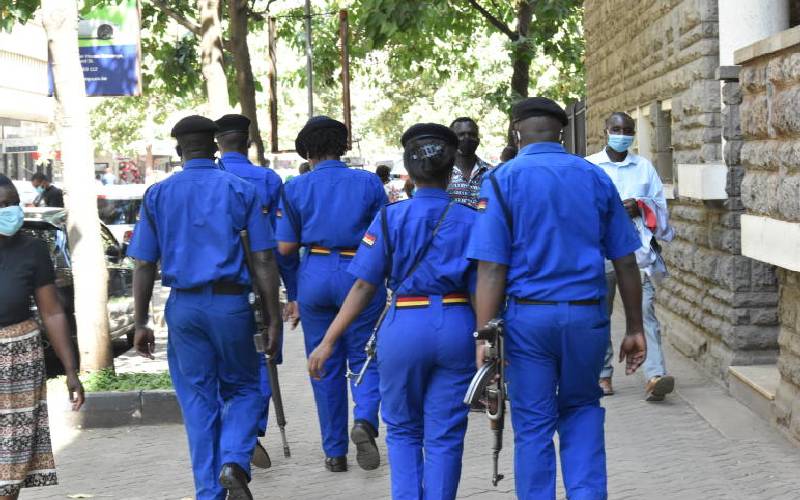 Awino. Remember that name. More so if you are on the Kisumu-Busia highway, to Ugunja, which is a village town in Siaya County that grew faster than its peers because of the tarmacked highway built right through it.
On Boxing Day, Ugunja, which has been a subject of many an urban legend of mothers-in-law getting into entanglements with sons-in-law, was in the news because of one Awino, a 19-year-old Third Former in a nearby school.
According to officers at Ugunja Police Station, this woman thoroughly beat up two police officers on Christmas Day. One of the officers was her boyfriend while the other had intervened upon hearing the cries of a fellow officer.
This paints a picture of chaos, and chaos it is for sure, considering that Ugunja is an unplanned township, like many others in Kenya.
Thus, its main street is the highway, and alleys between buildings and makeshift structures are the backstreets where all sorts of commercial transactions are conducted and where police officers even meet sweethearts like Awino.
Ugunja fights to stay awake late into the night, but gets livelier every Tuesday and Friday, as traders from far and widespread their wares on every available open space, which they share with motorcyclists, vehicles, stray and domesticated animals, noisy touts, louts, bicycles, and the traditional madmen of every marketplace.
Some years ago, Ohuru, one madman of the marketplace, died after eating poisoned fish the authorities had thrown around in order to eliminate stray dogs, cats and pigs.
Ugunja has its share of drama queens, and in May 2018, a deputy Officer Commanding Station (OCS) threatened to shoot motorists who blocked her driving instructor's vehicle while she was behind the wheel. In November 2019, another deputy OCS was linked to the death of a journalist, who was found dead in her house.
The latest incident of two male police officers getting beaten senseless by an unarmed 19-year-old woman also speaks volumes about our police service. Not the officers' physical strength but their emotional well-being, level of exposure to harm, their personal safety and failure and inability to protect themselves and Kenyans.
These issues are not new to Kenyans. That police officers need psycho-social support and better living and working conditions in order to carry out their duties effectively, are ideas Kenyans throw in conversations about police reforms.
Awino is free and will probably be in school tomorrow, and the two officers, according to the police, are out of danger. However, their ordeal points to a larger problem of governance, even without considering that their injuries were severe.
Awino's act elicited strong reactions, with some saying it is illegal for a Third Former to be in a romantic relationship regardless of her age. Others called it gender violence and said Awino should not receive a State Award as some people suggested but be jailed.
Under normal circumstances — and nothing is normal in Ugunja — the second group would carry the day. However, the police officers, despite their wounds, shattered egos and broken hearts, cannot prove they were assaulted and treated.
The OCS of Ugunja Police Station, who is also the boss of the victims, says his injured officers lack duly signed P3 forms, proving that they were injured. The form is mainly issued by the police, but can be downloaded from the police service website. The OCS signs the first section while making a request to medical personnel to examine the victims and write a report that is used in court as proof of an assault.
That these hapless officers lack the requisite documents means that official records of their assault is nonexistent since the form is issued after a report is made to a police station.
Their fellow officers may have overlooked that because they urgently needed medical help or dismissed it as they usually dismiss civilian victims of violence. Maybe the station lacks P3 forms and the officers do not know they can be downloaded.
Considering the mindset of our police officers and their love for ignoring laid down procedures when handling civilians who they ensure endure the most pain, all those scenarios are possible.
We may all hail Awino, and rightfully so, and castigate or sympathise with the officers. But this young woman has further exposed the frailties of Kenya Police Service. By putting two trained officers out of commission proves that the service not only lacks the capacity but mentality to carry out smallest of its duties and that police reforms are not a reality, but just a talking point.
We can dismiss this as a minor incident that can only happen in Ugunja, but it is a manifestation of a bigger problem, which will continue to haunt us — and the sad officers will forever sing their song: When constabulary's duty is to be done, a policeman's lot is not a happy one.?
-The writer is an editor at The Standard