Governor Nyongo- nephews' family property row deepens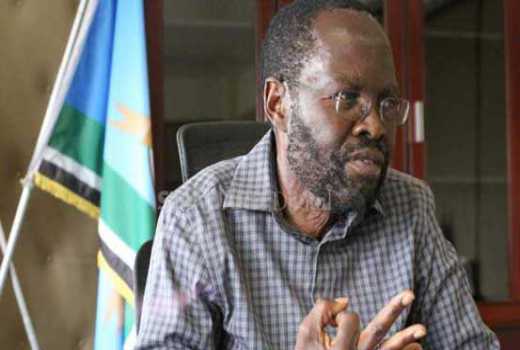 KISUMU, KENYA: The multi-million family property row pitting Kisumu governor Anyang' Nyong'o and his nephews has deepened after Nyong'o dismissed them as not being part of the beneficiaries.
The development comes after an attempt to settle the matter out of court as directed by Justice Thrispisa Cherere early this year delayed.
In the case, Nyongo's nephews Geoffrey Omondi Nyong'o and Kenneth Odhiambo Okuthe sued the governor and his sister Nyagoy Nyong'o for leaving out some relatives in the list of beneficiaries to his father's expansive estate.
But Nyongo and his sister have dismissed the two saying that the application is only out to "embarrass and extort Nyong'o now that he was elected the governor of Kisumu County".
In a joint replying affidavit filed by the duo, they dismissed the case as incompetent and intended to paint the family in a bad light.
They argued that even though Nyon'go took care of the two nephews after the death of their parents, they were not beneficiaries of Nyongo's father's property.
Nyagoy told the court that his brother governor Nyongo made sure that the two nephews went to school and even secured them jobs but have been ungrateful and have not been helping their ailing mother.
"The applicants are not dependants or beneficiaries of the late Hesborn Shimei Nyong'o estate within the meaning of S.29 of The Law of Succession Act," said Nyangoy.
According to court documents seen by The Standard Nyongo's father died on November 10, 2016 without a will.
Estimated to have a value of Sh200 million when the trust was opened by the governor and his sister, the property includes 100 acres piece of land in Miwani under a 99-year lease, parcels of land in Manyatta, Tamu, Milimani estates and East Rata in Seme Sub-county in Kisumu.
It also includes another parcel of land along Jogoo Road in Nairobi which currently holds flats.
In the suit however, the two nephews have accused Nyongo and his sister of neglecting the children of the late Margaret Awuor Dick and Judith Nyong'o who were both daughters of the senior Nyong'o.
The two, have also accused Nyong'o and Nyagoy of concealing important information on confirmation of the grant and not accounting for the estate.
On Monday however, Rogers Mugumya, an advocate representing the duo raised concerns over some of the issues Nyongo and his sister listed in their replying affidavit.
He asked the court to allow them to cross-examine the two over the adoption claims to test the credibility of their evidence.
The case will be heard on April 16, 2018.
Justice Thrispisa however urged the parties to consider an out of court settlement.