Martha Karua wants IEBC to fix 2017 shortfalls ahead of August 9 polls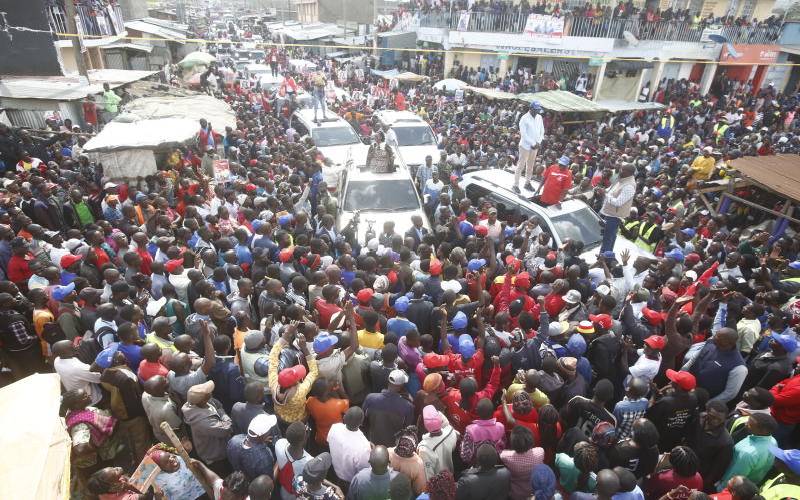 Narc Kenya party leader Martha Karua now wants the electoral commission to fix the shortfalls that led to nullification of the 2017 presidential election.
She told the Independent Electoral and Boundaries Commission (IEBC) Chairman Wafula Chebukati to assure them (Azimio la Umoja One Kenya) and other presidential candidates that its servers have been cleaned in readiness for the August 9 elections. Ms Karua spoke yesterday at Nairobi Serena Hotel when she was hosted by civil society organisations led by Okoa Uchumi and Angaza on economic justice and election integrity.
She said failure to open the servers for verification by the IEBC in 2017 was one of the key reasons that informed the nullification of President Uhuru Kenyatta's victory by the Supreme Court.
"We in Azimio la Umoja demand to be briefed by the IEBC on how prepared they are in conducting a free, fair and verifiable presidential election. They must tell us whether they have addressed the shortfalls that made the Supreme Court nullify the 2017 presidential polls," said Karua.
She added: "It is unwise to go to the next elections without being briefed on whether the IEBC system has been cleaned and that the audited servers will transmit the presidential results that are verifiable. IEBC must address our worries before we go to the polls."
Karua was in the trenches advocating civic and human rights in the early 1990s, which achieved political pluralism and later in 2002, brought a change of government under President Mwai Kibaki. The economy was rebooted and human rights improved. They were later to deteriorate in the run up to the 2007 elections, leading to post-election violence. In 2017, the Supreme Court led by then Chief Justice David Maraga, while nullifying Uhuru's election, accused the IEBC of failing to conduct the presidential polls in a manner consistent with the dictates of the Constitution. Karua, who is Raila Odinga's running mate, said they are prepared to win the presidential polls in the first round.
"A winnable election is what we want. We want to win with a big margin to make the election uncontestable as was the case in 2002. Even attempts by the State to subvert the will of the people were not possible. That's what we want in the August polls," she said.
Karua also warned anyone charged with ensuring a free and fair contest, to deliver a credible election. The Narc Kenya boss said anyone who will be found culpable of engaging in election malpractice must be ready to carry his or her own cross.
Carrying own cross
"If you are working for IEBC or you are a State officer like the police, Principal Secretary or even a Cabinet Secretary and your role is to deliver a credible election, just do the right thing. In case of any election malpractice, that officer must carry his or her own cross and not the institution they work for," said Karua.
She also assured the civil society that in case they form the next government, they shall fast track fiscal discipline to sustain Kenya's budget.
"We shall inherit a bad debt situation, but we shall observe fiscal discipline and if we will have to borrow, we shall have an elaborate plan of repaying it back," said Karua.
"Debt is not bad, but how you manage it matters. When you borrow, you must invest the money in areas that will generate revenue, spur economic growth and give jobs to the electorate as opposed to stealing what you borrowed."
She claimed over Sh800b is lost annually through graft and promised to stop the leakage.