Dairy farmers blame greedy milk firms for low prices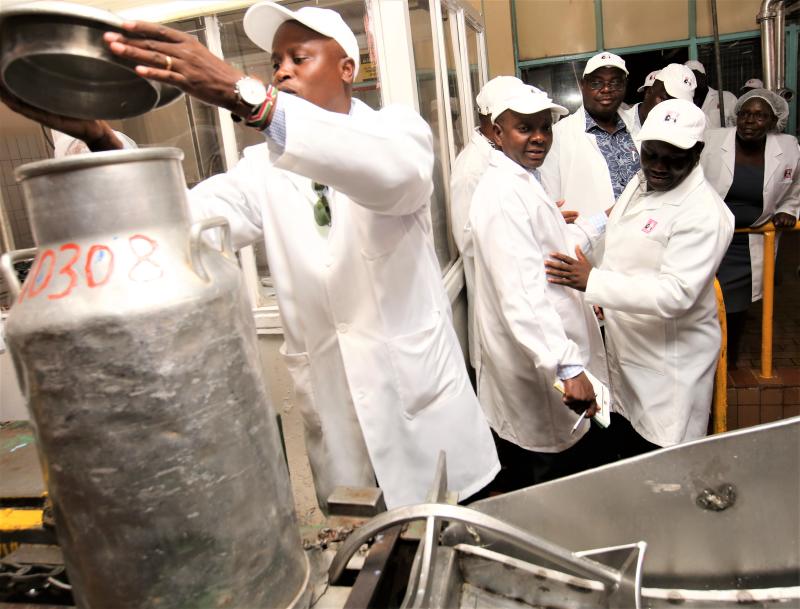 Declining milk prices are frustrating dairy farmers in the North Rift amid a prolonged drought.
This is despite there being a huge demand for milk against the backdrop of low supply in the shops.
Farmers interviewed blamed the situation on greedy milk processing firms buying their milk for as low as Sh24 per litre.
The dairy farmers said they were spending heavily on animal feeds during the dry season, yet the returns were low.
Businessman and dairy farmer Zedekiah Kiprop Bundotich alias Buzeki yesterday said it was high time some form of price regulation was adopted.
"Farmers are being exploited. Processors buy raw milk from farmers at between Sh24 and Sh26, while shelf prices in supermarkets stand at Sh120 per liter. The Ministry of Agriculture has done nothing to regulate prices," said Mr Buzeki.
He noted that most parts of Uasin Gishu experienced short rains in October last year, and that the drought had made it difficult to maintain dairy cows.
"The current prices defy the law of supply and demand. Milk production has dropped. Obviously farmers should get better prices for what is available," said Buzeki.
"Farmers are being exploited as the drought persists. There is a need for the Government to offer a subsidy on animal feeds."
Abraham Misik, another dairy farmer, said he had been producing an average 50 litres of milk daily during the peak season, but that had dropped to 12 litres.
Mr Misik said with the drop in production, he expected prices to improve because of increase in demand.
"A 70 kilogramme bag of cow feed costs Sh1,800, and it lasts only three to four days," said Misik.
"We urge the Government to empower cooperative societies to enable farmers to enjoy economies of scale in the purchase of feeds and other inputs."
Misik said lack of agricultural extension officers at the grassroots has dampened the farmers' production will.
"Extension officers can assist in training farmers on animal husbandry as well as how to prepare animal feeds," he said.
Still another farmer, Gilbert Koskei, blamed the general poor economic situation in the country for the inability of most households to buy milk from farmers. He said with the current dry spell, raw milk prices should be as high as Sh50 per litre.