Stop over-dependence on external funding, President Uhuru Kenyatta urges AU summit
NEWS
By PSCU | January 31st 2015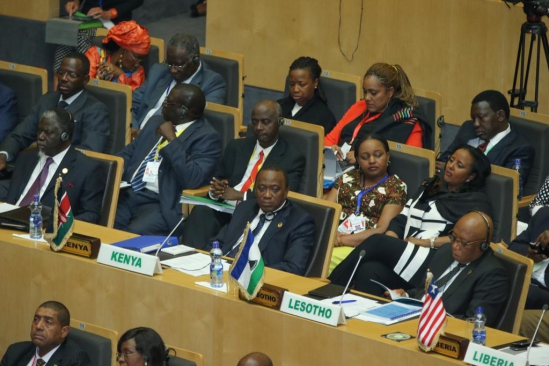 Addis Ababa, Ethiopia: President Uhuru Kenyatta Saturday said the continent stands on the threshold of new rebirth and the African Union should stop depending on external funding to finance its programmes.
He said after 50 years since the inception of the union, Africa is experiencing the most inspiring rebirth and the confidence in African resources and solutions grows each passing day.
Uhuru said Africa stands tall and the continent looks at the future with certainty that the possibilities and opportunities for growth and prosperity are in the hands of Africans.
He said the continent is asserting its independence and sovereignty more robustly and the solidarity of Africa has never been greater.
"Depending on external funding for 78 per cent of the union's budget is simply unacceptable", said the Head of State when he addressed the 24 Ordinary Session of the African Union Heads of State and government in Addis Ababa, Ethiopia.
He said the African Union is a testimony to the resolve of the African people to march boldly into the future and symbolizes the people's consensus for peace, stability, development and happiness.
Uhuru said over-dependence on external funding by the AU poses a profound handicap and an impediment to the continent's momentum to march forward.
He asked member states to take the affairs of the AU in their hands and ensure compliance in their contributions to the financial resources of the union. Member states should ensure timely remittances of their contributions to the union.
"It is the only way that our meetings and programmes will be sustainable", said President Kenyatta.
He said Kenya fully endorses the recommendations of the AU's commission on alternative sources of financing the union.
"It (commission's report) sets out a menu of innovative financing alternatives that offers choice and flexibility aimed at ensuring that we all do our part in liberating the African Union from dependency", he added
Uhuru said Kenya favours financing of the union through a dedicated line controlled by respective treasuries of member states.
"This, in our view ensures consistency in remittance and therefore, better compliance. I urge Members to work harder to clear arrears in contributions.
The president assured the delegates that the treasury, through the National Bank will establish a channel through which Kenya will fulfil all its obligations to the union.