Why reporting stolen phones to police is teary affair for victims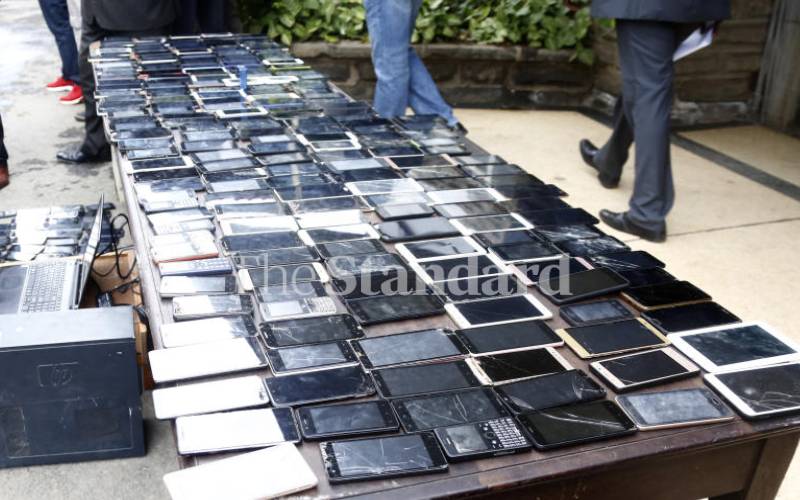 Phone-snatchers are on the prowl in the city, and some of them are daring. The stretch between City Stadium and Muthurwa and near OTC are hotspots for phone-pinching as suspects operate in groups.
"Some of them use tough rubber device to open glass windows of matatus in traffic jams without being noticed before snatching phones from passengers," said a policeman.
Other hotspots in Nairobi are Globe Cinema roundabout, Khoja, Race-course, Temple Road, Uhuru Highway, Pangani, Ngara and Machakos Country bus station. But police officers have not been helpful in tracing stolen phones.
Sometimes in February, Anne Njeri lost her Samsung mobile phone valued at over Sh20,000 around Ambassadeur Hotel while waiting to board a matatu.
"I reported the matter at Central Police Station the following day and an officer was assigned to track it," she said.
Njeri said the officer located the phone signal "but whenever I showed up requesting for assistance, he would ask for 'tea', forcing me to give up."
This is the same case with Andrew Njenga who lost his phone valued at Sh30,000 and other gadgets at Pangani to a group of armed robbers on November 25, 2020. The matter was reported to Pangani Police Station the next day and he shared the phone's IMEI number for tracing.
Lost items
"They (police) requested me to come next day which I did. After several visits to the police station, I gave up. I feel so bad about my lost items."
These cases are replicated, with hundreds of victims suffering in silence. Kamukunji Police Station records the highest number of phone theft cases in the city.
"Sometimes we record more than 10 cases. The number goes up during end month when many people are coming to the city centre or travelling upcountry," a police source at Muoroto Police Patrol at Machakos country bus station said.
Central OCPD John Nyamu agrees that such petty crimes exist, but says some people do not report the cases.
"We only act on reported cases because we have a way of combating criminal activities based on intelligence reports," he said.
However, a DCI officer who is among those tasked with tracking lost devices says some dealers who buy stolen phones use sophisticated software to wipe out some crucial details.
"Second-hand mobile phones dealers in Nairobi have sophisticated machines and softwares that are able to wipe out the memory and IMEI number before being tracked," he says.