From skin and hide collection corner to a town, the rise of Katito town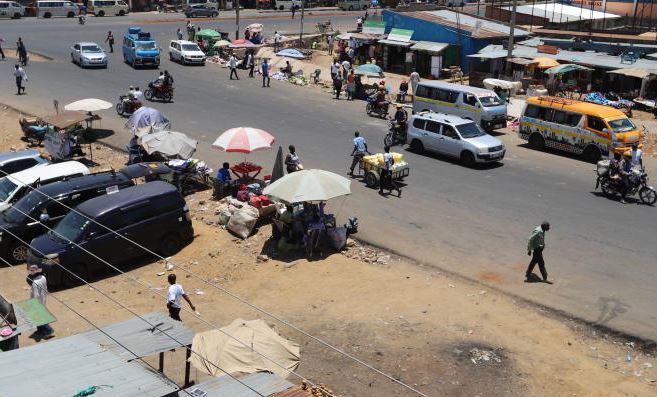 In late 1940s, Awach was the main market centre serving most areas in Lower Nyakach, Kisumu County.
But Daniel Atito, an industrious young man, felt the market centre was a bit far from his home. He therefore put up a small kiosk at his home at the junction connecting Homa Bay, Kisii, Kisumu and Awasi towns.
He had been dealing in skins and hides and would collect the products in his kiosk before selling them in bulk.
In early 1950s, Atito's business expanded, and he moved to the Rift Valley where he bought cereals, hides and skins and transported to his kiosk using donkeys.
Soon, his kiosk became famous and few more businesses began to set up. Some people moved from Awach to set base near Atito's business.
In the 1970s, Awach market died off and Atito's business site grew, earning the name Katito (Atito's place).
More people thronged Katito to have a pinch of the benefits coming with the growing traffic.
And two weeks ago, Katito attained a town status ahead of many famous market centres in Nyakach Sub-county.
This means Katito is set to become more famous and valuable than Pap Onditi, which is the administrative centre of the sub-county.
"We saw this centre grow, but we did not know it could kill the neighbouring market centres," says Dickens Oningu, the Secretary General of Nyakach Elders Development Group.
Today, a mobile phone telecommunication booster stands on what was the location of Atito's shop along Ahero-Katito road, bordering a permanent structure that hosts businesses.
Dan Atito, his son, says he was born in 1955 and he saw his father's industriousness pay off, turning a kiosk into a business hub.
He says his father, who was born in 1903, had four wives and 13 children, all of whom benefited from the old man's 50-acre parcel of land which is now part of Katito town.
Legacy
Two of the wives were his own, while two were his brothers' who died while working in the military and Atito stepped in to support them, siring with them children before building each of them a home.
"Almost all the parcels have undergone succession, and the ownership transferred to Atito's children and grandchildren. He donated some parcels to people before he died in 1983," said Dan, who is Atito's third born son of the second wife.
Dan operates a welding shop in Katito town. He says his family's prayers is to have his old man's legacy maintained.
"We would wish to have my father's grave turned into a museum, where people who want to know about Katito can come and get information. The grave is located in a 80 by 40 feet parcel, which we have protected and prevented anybody from laying claim of," he said.
For Mzee Oningu, witnessing the once hides and skins collection centre upgraded to a town is a satisfaction to him and his peers.
"Ours as a group is to focus on development, and having this place become a town is a boost to our agenda as Nyakach elders," he said.
Growing up in the area, he saw first permanent houses come up in the early 1970s. Most of them hosted bars in their early stages.
And today, storey buildings are coming up in all corners, replacing the rusty iron-sheet structures that dotted the centre.
Modern structures housing restaurants, private schools, hospitals and other facilities are taking position to align to the expanded Kisumu-Kisii and Kisumu-Homa Bay roads.
Katito becomes the third market centre to be upgraded to a town status by the Kisumu County government in the last six months.
Others are Maseno, which became a town in September last year, and Ahero, which was upgraded two months later.
Muhoroni centre whose upgrading was set for January this year failed following massive demolitions by Kenya Railways, which affected about half of the centre.
County Planning and Urban Development Executive Dixon Obungu said Katito's strategic placement boosted the need to have it upgraded to a town centre. The town is at the junction connecting Homa Bay, Kisumu, Kisii and Awasi towns.
"This is a fast expanding centre, and our moving in is to help make the growth orderly," said Obungu, noting that the town currently has a population of over 10,000 people.
He said his office has already allocated Sh10 million for improvement of the market, with massive allocation expected at the beginning of the next financial year, targeting sewerage, roads and other social facilities.
The 2019 Kenya Population Household Survey projects that the country will be 50 per cent urbanised in 2030, with urbanisation currently standing at 30 per cent.
Obungu said Katito, which is barely 20km from Ahero, will focus on agro-industry economy, given its strategic location that makes it accessible to Kisii, Homa Bay and Kericho, which produce many of the agricultural products supplying Kisumu.