Importers decry high cargo storage charges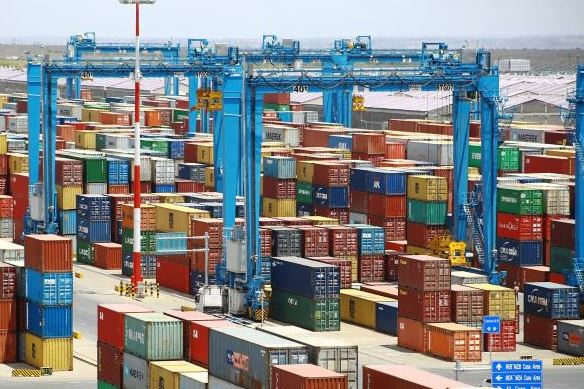 The monthly import storage charges at the Nairobi Inland Container Depot (ICDN) have increased by 62 per cent due to the impact of the Covid-19 pandemic on port operations.
Data from the Shippers Council of Eastern Africa (SCEA) shows that shippers are footing storage costs of between $68,660 (Sh7.3 million) and $135,310 (Sh14.4 million) weekly.
In a report dubbed Impact of Covid-19 on Logistics in Kenya, January to May 2020, released yesterday, SCEA called for an extension of the free cargo storage period for local imports to cushion them from additional costs.
This comes after the Kenya Ports Authority (KPA) earlier extended the free storage period on domestic export containers from nine to 15 days.
KPA also increased the period for transit import from nine days to 14 days and transit export containers from 15 to 20 days.
"We are disappointed to note that the same treatment has not been given to local import containers, which only enjoy four free days and yet the same problems that are impacting transit containers are also impacting local containers," said SCEA.
SCEA noted that for March and April, only about 46 per cent and 39 per cent of cargo were cleared at the ICD without entering storage during the four days' free window. "About 60 per cent importers using ICDN pay storage charges and other associated charges such as remarshalling. SCEA calls for an extension of the free period to eight days," said SCEA.
Transit time for truckers has also been prolonged due to cross-border challenges as a result of Covid-19 pandemic and its containment measures - including testing of drivers, delay in test results, screening and driver self-quarantine.
SCEA says delays at border points have resulted to an additional cost of $200 (Sh21,320) daily for every extra day taken as per the current transit time compared to the pre-Covid time which was at zero additional cost.
The cost incurred caters for parking fees, drivers upkeep and truck idle time, said SCEA.
Operations at the ICD have been affected as most senior personnel from KPA and the Kenya Revenue Authority (KRA) work from home and clearing agents are not allowed to access offices among other issues related to curbing the spread of Covid-19.
The three months saw the number shipping lines calling at Mombasa Port decline from 43 ships in January to 41 in March. The growth in cargo handled at port declined from 3.2 million tonnes in January 2020 to 2.7 million tonnes in March 2020
Cargo throughput measures the total volume of cargo discharged and loaded at the port. It includes break-bulk, liquid bulk, dry bulk, containerised cargo, transit cargo, and trans-shipment.
In the period under review, containers handled at the Mombasa Port fell by 26,570 20-foot equivalent units (TUEs) from a total of 129,213 TEUs in January to 102,643 TUEs in March.
Container traffic handled at the Nairobi Inland Container Depot fell from 39,320 in January to 26,200 in March.
"This can be attributed to low import witnessed during the review period owing to Covid-19 crisis which has affected the supply chain," said SCEA. The average truck turnaround for local imports rose from 4.5 hours in January to 9.36 hours in March.
"The higher truck turnaround time is mainly attributed to the increasing number of trucks for conventional cargo, bulk, iron and steel that have to wait from a hook for direct delivery. This in addition to the gate-in gate-out challenges, human resources shortages," said SCEA.
The report shows that truck turnaround time for the return of empties rose from an average of 3.5 hours in January to 8.9 hours in March.
"This can be attributed to waiting time by trucks as they wait to offload the empties at ICDN," said SCEA.
It took an average of seven days to complete inspection and testing on average in January to March by the Kenya Bureau of Standards despite the decline in the number of consignments released said SCEA.
This saw the number of consignment released by Kebs fall from 11,499 in January to 7157 in April.