Food shortage looms as climate change takes toll on crops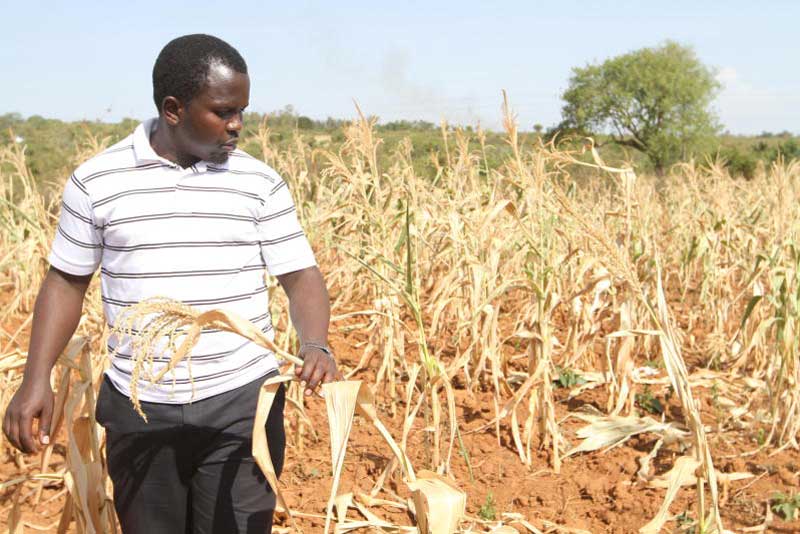 The effects of climate change are likely to undermine food production in Kenya and across the region due to unpredictable rainfall, floods, and drought. On the other hand, industrialised nations could gain in production according to African Alive Kenya Chapter's latest report.
African Alive Kenya Chapter Director Walter Nyakwaka warned that 'the crop yield potential is likely to decline due to the rise in global temperature that would increase hunger risk.'
Mr Nyakwaka, who was speaking at a recent workshop in Nairobi, said the frequency of drought and floods are likely to affect local production negatively, especially in subsistence sectors at low latitudes.
"Rain-fed agriculture in semi-arid and sub-humid regions in Kenya is mostly at risk," he explained. The impact of climate change on forests and forest-dependent people are also evident in increased incidences of forest fires and outbreaks of pests and diseases.
Flash flooding
Kenya has suffered forest fires attributed to unusual environmental conditions. And flash floods in several parts of the country have worsened things for the country's agricultural development and growth in the sector.
He said severe change in climatic conditions in the country has caused destruction and displacement of people due to floods in Nyanza, western and lower eastern parts of Kenya. Dry weather and rains pounding on the other are common features in Kenya.
High temperature, strong winds, and parched weather conditions are the forebearers of forest fires. "Climate change adaptation is needed in a variety of ecosystems, including agro-ecosystems forests and woodlands, inland waters and coastal and marine ecosystems," according to Nyakwaka.
On the use of new biotechnologies, he says science and technology must spearhead agricultural production in the next 30 years at a pace faster than the Green Revolution did during the past four decades.
Policy analyst at the UN office in Darfur John Otieno Ochiel said exploiting the new biotechnologies can supplement conventional breeding approaches. "This will increase yield levels, increasing input use efficiency, reducing risk and enhancing nutritional quality," he noted.
Mr Ochiel said most genetically modified crops being cultivated were developed to be herbicide tolerant and resistant to pests.