Hellon shares on life's ups and down
EVE WOMAN
By - | Apr 6th 2013 | 5 min read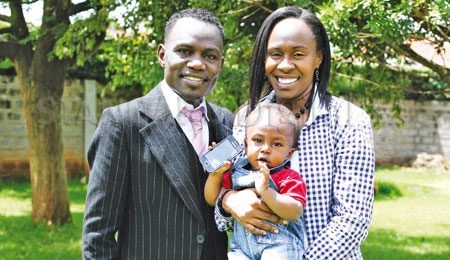 Hellon with his wife Kuyu and their son, Derore, a product of prayer and trusting God. [PHOTOS: WILBERFORCE/STANDARD]
From the Finger of God fiasco to the Esther Arunga saga, 2010, was volatile for Joseph Hellon. But the gifted saxophonist has emerged from the mess smelling like roses. He had a chat with Shirley Genga
You have been labelled many things from gifted musician to cult leader. But who is Joseph Hellon?
First, I am a husband to my wonderful wife Kuyu, a father to Lonisa Adhiambo and Yvonne Brenda Hellon (my late brother's children who I have adopted) and my son Derore.
I am a family person. Family comes first and everything else follows.
The Esther Arunga /Quincy Timberlake scandal in 2010 was messy. How did you cope?
Yes it was. It was a dark time for my family and I, but we survived the storm by the grace of God. We were accused of many things and our name was maligned for no good reason. But God saw us through. He was our only comfort and hope.
So what is the truth about that scandal?
Esther is my cousin and not some stranger as had been alleged by some people.
She had been living with me back in the day when she was only reading business news. I knew her from way back, and I meant good for her. But the truth was distorted and this hurt my reputation.
Who was to blame for the scandal?
Allowing Quincy Timberlake into my life in early 2010 was my greatest undoing. I never knew I was letting in a conman into my life and church. He was a childhood friend and I assumed he meant no harm, but I was wrong. Even after the scandal, I continued to live with him and Esther. A year down the line, however, I realised that he was not a good man. It is then that I cut my links with him.
What was your lowest moment then?
When my family and I were arrested because 'I was running an illegal society'. The police released my (adopted) daughters after two days, but I was set free after a week when they found me innocent.
How was your life affected by the fiasco?
While my music school did not suffer from all the unwarranted negative publicity, my performances as a musician did. Corporate leaders never want to be associated with any scandal, and so for a while my performances went down. I lost many friends and relatives too.
Have your performances begun to pick up?
I had few gigs in 2011 but it was in 2012 that my career began to pick up again. I started Jazz and Clad at Galileo, a theme music event that had a small following at first, but with time, it became popular. It now has a huge following and there is never an empty seat during the concerts.
We not only play Jazz music, but every week, we also come up with a dress theme. Entrance is free.
Tell us something about your childhood?
I grew up in Migori and I am the fifth born in a family of nine children. My parents were sugarcane farmers.
We were extremely poor and could barely afford basics like food. Even bathing was a luxury; the river was far from home, and because we could not afford to travel daily to the river, we would go on Sunday afternoons to bath.
What kept you going as a child?
Even though we did not have much, my parents managed to create a loving home. My mum was not educated, but she taught us the value of education and encouraged us to excel in school.
When did you discover that you had a musical gift?
Though poor, my parents were great singers in church. They were part of the choir. I also sang in church and in school.
Why did you decide to pursue music as opposed to other lucrative careers?
Though I went to Starehe Boys Centre and got straight As qualifying to go to campus, my heart was in music.
While in my third year of high school, I was already teaching Kenyatta University students music, and so after high school, I did not see any reason to pursue higher education as there were no options available that would help me nurture my passion. The local universities and colleges did not provide me with any options. Maybe if I found a saxophone professor, I would have seen a reason to go to campus.
When did your love affair with the saxophone begin?
In Form One during the first parade. The music club performed in front of the school. One of the performers's — Jeffrey Njogu — was playing the saxophone and I loved his performance. I did not know the name of the organ, but I was completely captivated by its sound. And immediately after assembly, I went up to Jeffrey and asked him if he would teach me to play it. He agreed.
What happened next?
I dedicated my high school life to music and soon, I was one of the best musicians of my time; a fact that was evident during music festivals. Apart from the saxophone, I also learnt how to play the flute, clarinet, piano and violin.
What happened after high school?
I joined Real Music School in Nairobi's Westlands. The school is part of the Association Board of Royal Schools of Music, and so the music exams are set in the United Kingdom. I joined in 1994 as a teacher but within a year, I was the principal. This is how I managed to educate my siblings. I later bought the school and renamed it Jether House of Music. The school is associated with London College of Music.
How do you run the school?
My wife and I run the school together. My wife is the boss and I am a junior employee. She handles all the money while I do the music teaching. She handles all our ATM cards and cheque books.
When did you get into preaching?
My parents were active in church and that is how I was drawn to the pulpit. I began reading the Bible actively when I was seven years old, and the content fascinated me. Later, I realised I was good at preaching as I could easily connect with people. I started small but after some time, I got a huge following. In 2007, I registered Finger of God Church. The name was inspired by Luke 11:20 and Mathew 12:28.
Is your church still in existence?
We still meet but in groups in different homes. We have not had a public service since everything blew up. We won the court case against the Government and we are negotiating the settlement.
What happened to your presidential bid?
I still plan to be the president of Kenya one day. But for now, I am focusing on my family and music. First things first.
How do you unwind?
I do not like going out unless I have to; I am a home body. We love to stay indoors and watch National Geographic.
I love to play with my son until late and when he wakes up in the morning. I also enjoy driving my daughters to and from school every morning and evening.
Future aspirations?
I plan to start a music university and a sport academy someday.