County borehole deals quench semi-arid Meru residents' thirst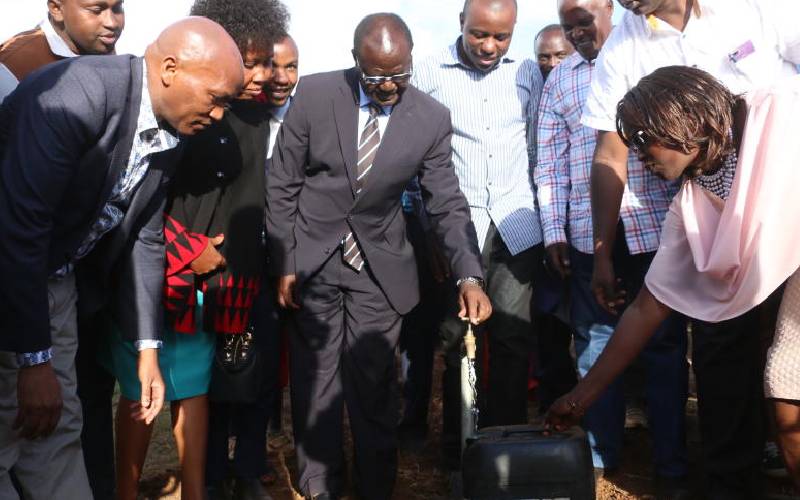 The Meru County government has pumped Sh1.07 billion into solar-powered boreholes projects since 2017.
The county now has 195 high-yielding solar-powered boreholes in the semi-arid areas of Buuri, lower Imenti, Igembe and Tigania.
The county perceived as fertile is a plate of contrasts, with some areas constantly relying on food aid.
Although the county receives a good amount of rainfall throughout the year, some areas are semi-arid.
The irrigated tea farms in upper Central Imenti are a sharp contrast to the dry wastelands at Nchoroiboro in Buuri Sub-County.
"This financial year we are drilling, equipping, rehabilitating and installing solar power on 45 boreholes. At the end of our five-year term we will have drilled 240 boreholes," said Eunice Kobia, the county Water executive.
The county reports that it has constructed 17 water and irrigation projects worth Sh230 million benefiting more than 30,000 households.
It also supported 1,200 community water projects by installing tanks and laying pipes at a cost of more than Sh282 million.
The county negotiates with landowners who offer plots for the borehole in exchange for a lifetime supply of water. About 10,000 households have benefited from this arrangement.
In some areas, the land arrangement has caused disagreements.
At Kiolo kia Muuti village in Njia ward, Igembe Central, the sinking of a community borehole at the homestead of the late M'Itome M'Guula divided the family.
Some family members are crying foul but Ms Kobia and Njia MCA Isaiah Kanyaru said consent was obtained before embarking on the project.
"We are happy the community has a reliable water supply," said Josephine Gitonga, M'Guula's granddaughter. "But we still think the compensation should have been handled better." Boreholes management committees have been put in place to ensure prudent management and fair distribution of water.