County sinks boreholes to ease access to clean water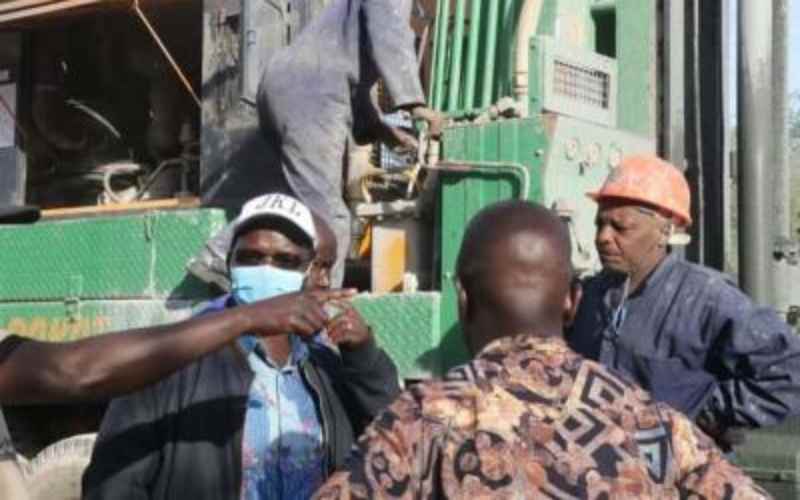 The county government has started sinking boreholes to address the problem of water shortage in West Pokot.
So far, the government has sunk five boreholes in Pokot North and more than 50 others across the county, according to governor John Lonyangapuo.
He said the project was delayed for two years after the machine they were using to drill boreholes broke down. Heavy rainfall that led to landslides also made it hard for them to continue with the project.
"Between January and March each year, we normally experience drought. The boreholes will help the residents and their livestock," the governor said.
This came as residents in the northern part of the county said they are forced to walk up to 15 kilometres, to Uganda, in search of water and pasture for their livestock.
Emmanuel Anna, a resident of Kasses village, said they share water with wild animals and livestock.
"It is so sad that we are forced to share the water pans with animals. The water is also dirty which has exposed us to waterborne diseases.
"Many people here are ever in hospital due to typhoid and cholera. We ask the government to come to our aid. This must end. We deserve better," said Anna.
Another resident, Miriam Kapengiro, said women and children are the most affected.
"Even if the county government stocks health centres with drugs, this will not help us.
"They should resolve the water scarcity problem. We have been suffering for a long time," she said.
The governor said residents, even those in remote areas, will have access to clean water for their livestock and for domestic use once the boreholes are complete.
Lonyangapuo said residents will also be able to farm as they will now have water for irrigation.
"The area is dry and residents have been facing hunger due to lack of water.
"If we had water, we would be producing a lot of food, through irrigation," Lonyangapuo said at Morioko village where he inspected one of the boreholes.
He said they are keen to complete the borehole at Morioko ahead of time to solve the water challenges the residents have been facing.
Joyce Chakamol, another resident, said the borehole will help improve the water supply once it is ready.
The boreholes are along the main livestock migration route to Uganda and will see residents in the semi-arid region have access to clean and safe water.
"We laud the county government for the project. We have been facing many challenges walking long distances in search of water," Chakamol said.
Many expectant mothers have lost pregnancies while trekking long distances in search of water," she said.